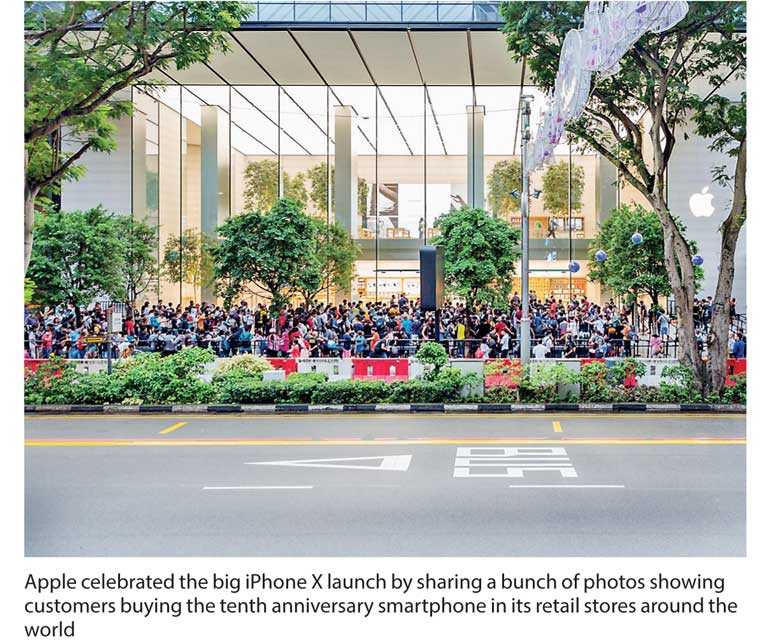 Representing the next generation of smartphones, the iPhone X generated an immense wave of excitement when Abans, Apple's authorised distributor and importer, introduced it in 2017. Its sleek futuristic features earned rave reviews amongst Sri Lankan consumers, Apple brand evangelists, and tech critics alike. Yet, it still can be tough to decide as to whether you should upgrade to the innovative iPhone X. Abans is here to make it easier. Check out the following reasons why you should switch to an iPhone X from Abans.

Improved security with Face ID

The iPhone X eliminates the home button to bring you one of the fastest, most secure biometric unlocking systems available – Face ID. Apple's Face ID provides intuitive and secure authentication enabled by the state-of-the-art TrueDepth camera system that uses advanced technology to accurately map the geometry of your face. With a simple glance, you can securely unlock your iPhone X, authorise purchases with Apple Pay, and sign into apps. The Face ID also automatically adapts to changes in your appearance, such as makeup or facial hair. Plus, the feature is designed to work indoors, outdoors, and even in total darkness.

Take better selfies with a more powerful front-facing camera

The TrueDepth front-facing camera is a signature feature of the iPhone X. Housing some of the most sophisticated technology that Apple has ever developed, the TrueDepth Camera features a seven-megapixel camera for photos and several components dedicated to capturing 3D data for Face ID authentication and Animoji. How it works is that the camera uses an infrared emitter that projects over 30,000 dots in a known pattern onto the user's face. Those dots are then photographed by a dedicated infrared camera for analysis when activating Face ID and Animoji. Further, the camera consists of a Flood Illuminator which utilises infrared to take more enhanced selfies in low light conditions.

Connect with your friends using Animoji

If you want to send something fun to your friends but are tired of using the regular gifs and emojis, then iPhone X's Animoji is perfect for you. Animoji allows you to create and share custom animated characters in your Messages app that use your voice and mirror your facial expressions. This is achieved through the TrueDepth Camera, which analyses the motions of your face and reflects those movements in a dozen different Animoji in the Messages app. You can share your own Animoji with anyone using an iOS device, Mac, or smartphone.

Make your day seamless with innovative specs

The iPhone X empowers you to effectively juggle your day-to-day tasks with progressive specifications comprising of a A11 bionic processor with 64-bit architecture, 5.8" super retina HD OLED screen, IP67 dust and water resistance, 2,716 mAh battery, iOS 11, Bluetooth 5.0, 802.11ac Wi-Fi, and 64/256GB storage.

Awesome discounts and offers from Abans

Choosing to buy the iPhone X from Abans allows you to experience a great range of perks and benefits that you may not receive otherwise. These include a 50% discount on the Belkin wireless charger, up to 10% discount on Beats Headphones, a 5% discount on selected credit cards, and up to 24 months' interest-free instalments with one instalment waived off.

Convinced that you want to purchase the iPhone X? Then head over to your nearest Abans-Apple iStore, Abans Elite Showroom, or authorised Apple Reseller to get it today.

Contact 011 5999 000 for more information.