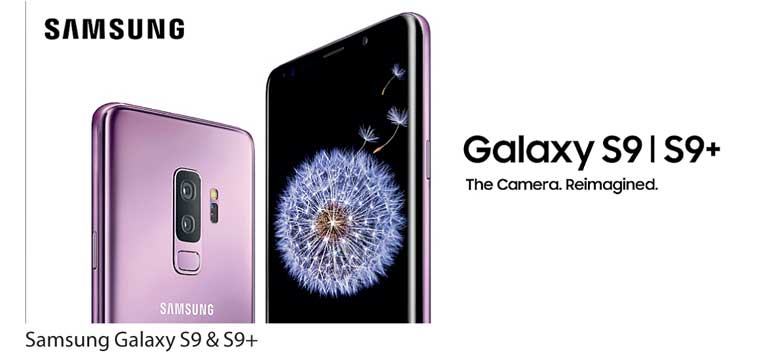 Amazing offers during pre order period from

10-23 March

wOw.lk, the largest e-commerce website in Sri Lanka, is proud to announce that consumers can now log onto www.wOw.lk and pre order Samsung's 2018 flagship smartphone devices, the Samsung Galaxy S9 & S9+, which were recently unveiled by the electronics giant. Samsung is the number one choice for smartphone users in Sri Lanka and wOw.lk is expecting an overwhelming response during the pre order period from 10 to 23 March.

Committed to exceeding customer expectations, wOw.lk is offering 50% off on a Samsung Gear Sport watch when customers pre-order the S9 or S9+ during the promotion period. In addition, wOw.lk is also extending 0% monthly instalment schemes for customers placing orders via their Sampath Bank Visa and Mastercard Credit Cards and Nation's Trust Bank American Express Credit Cards.

Easily one of the most powerful smartphones in the market, the Samsung Galaxy S9 features a 5.8" Quad HD+ Super AMOLED Infinity display that boasts a near seamless visual experience, 4GB RAM; 64GB Memory and a Battery Capacity of 3000mAh. While the Samsung Galaxy S9+ is beefed up with a 6.2" Quad HD+ Super AMOLED Infinity display, 6GB of RAM and a Battery Capacity of 3500mAh.

The Samsung Galaxy S9 and S9+ cameras feature big upgrades in comparison to previous models, and offer all-new dual aperture primary camera, the S9+ offers dual rear cameras. Both phones feature the novel AR Emoji which allows you to create avatars in your own image. The smartphones are available in either Midnight Black, Coral Blue and Lilac Purple. The Samsung Galaxy S9 & S9+ come with a 1-year authorised agent warranty.

Established in 2011, wOw.lk has since grown into the leading e-commerce company active in Sri Lanka's industry, catering to both international and local consumers. Over the years, the company has demonstrated innovation in driving awareness of its site through unique marketing products and services. wOw.lk is operated by Digital Commerce Lanka Ltd., a group company of Dialog Axiata PLC. It is one of the pioneer websites in Sri Lanka and offers a wide range of deals, original products with warranty, multiple payment options and island wide delivery, striving to offer its customers the complete shopping experience.