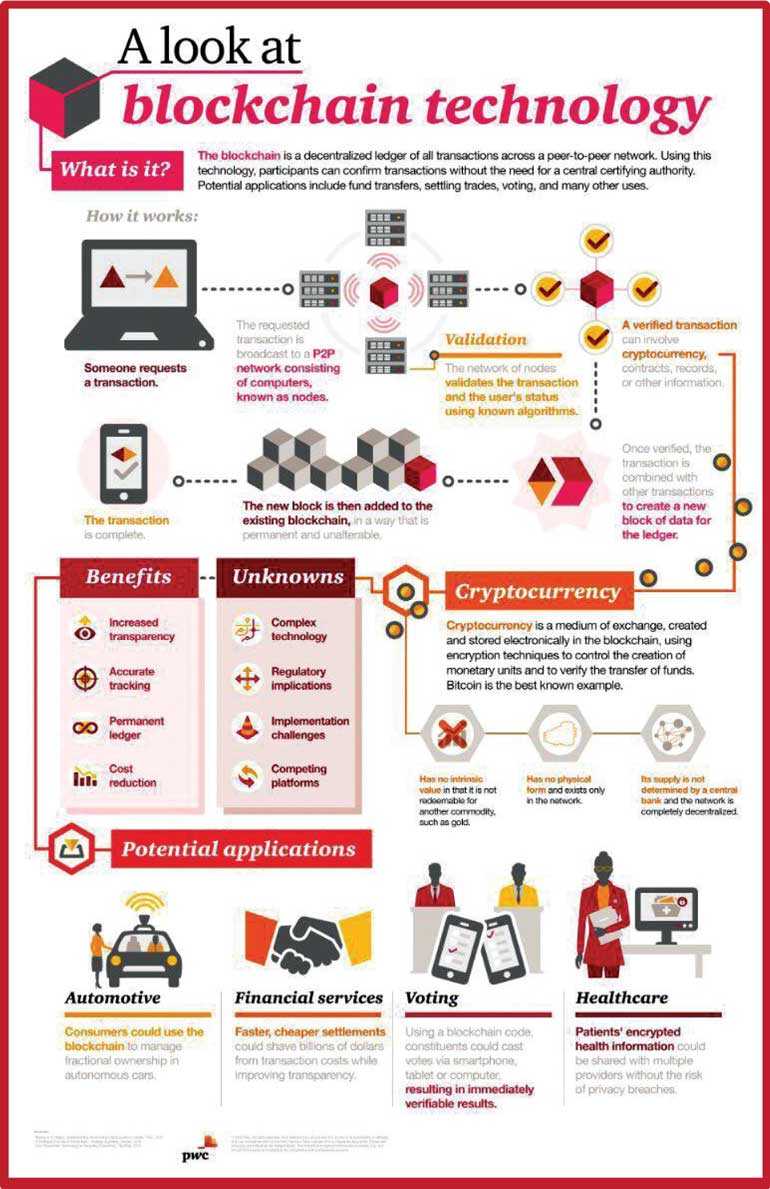 ---
As businesses evolve and amidst an increasing presence of blockchain technology in organisations overseas, there is a crucial need for Sri Lankan businesses to also embrace and adopt important technologies such as blockchain, which has the power to help businesses perform better.

PwC's Global Blockchain Survey conducted in 2018 showed that of 600 executives from 15 territories, 84% said that their organisations have at least some involvement with blockchain technology, while 45% believed that trust related issues with the technology could delay adoption. The financial industry is believed to be the leader in blockchain adoption followed by industrial products and manufacturing, as well as energy and utilities, healthcare, government, retail and consumer and entertainment and media. To help senior managers from the private and public sectors, including CEOs, CIOs, CFOs as well as CTOs and team leaders understand how to utilise blockchain as an important strategic tool in strengthening a company and its performance, PwC's Academy of PricewaterhouseCoopers (PwC) Sri Lanka has organised a two-day program on 29-30 August titled 'Blockchain as a Business Strategy'.

The program aims to help non-technical business leaders including c-suite understand blockchain, how it works, and how it can be successfully adopted within the respective organisations as well as industries. The program will be conducted by Gary Nuttall, a well-respected international technology consultant who has been providing training, education and advisory services on blockchain, artificial intelligence and advanced analytics to organisations and individuals across the globe. He is also an advisor to several blockchain platform start-ups and runs a number of blockchain and crypto currency community groups in the UK.

During the two day PwC's Academy program, participants will be provided with details of real-life examples of how different organisations have already successfully implemented the technology and use cases on supply chain, financial services, etc. The resource person will also help allay misgivings the participants may have over blockchain. They will also receive insights on the various challenges companies and industries are facing due to the technological revolution, and how utilising blockchain strategically can help businesses sustain on a long term.

On completion of the program, the participants will gain a thorough understanding what blockchain is and the different types of the technologies available and how it functions and its key components. They will also learn what a distributed ledger is and the difference between a public and private ledger. The participants will have the ability to identify prospective opportunities in their organisation and will be confident in establishing how blockchain will fit within their organisation strategy.

As a distributed, tamperproof ledger, a well-designed blockchain not only cut out intermediaries, reduce costs, and increase speed and reach, but it also offers greater transparency and traceability for many business processes. There are five more seats remaining for the program which will take place 29-30 August at Hilton Colombo. For registrations contact sheran.dunlas@pwc.com or 0773656655.