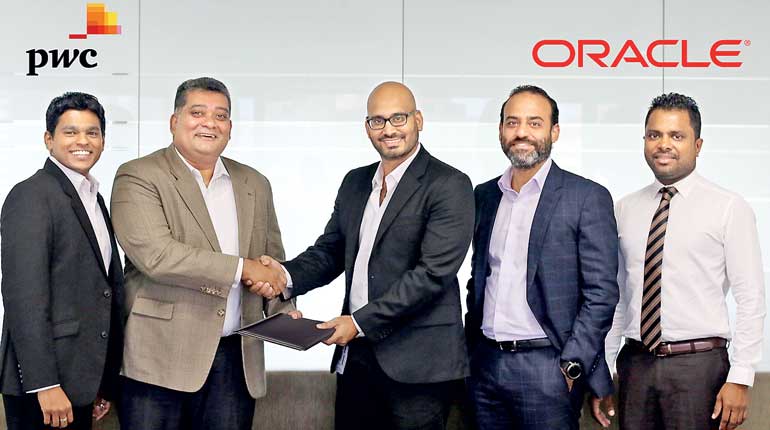 At the launch of the Oracle Cloud Application Practice by PwC (from left): Amila Perera, Associate Director/Oracle Cloud Practice Head PwC Sri Lanka and Maldives (1st from left) , Channa Manoharan, Partner/Advisory Leader PwC Sri Lanka and Maldives (2nd from left), Chanditha Samaranayake – Regional Director South Asia Growth Economies (3rd from right)
In an effort aimed at helping business enterprises in the country keep up with changing times and embrace digital solutions, PwC Sri Lanka recently launched the Oracle Cloud Application Practice, an initiative aimed at driving businesses to capitalise on new opportunities by using technological solutions such as Oracle Cloud. PwC is a Global Cloud Elite and Diamond level member of Oracle Partner Network (OPN).

PwC will offer its expertise to companies in Sri Lanka, from strategy to execution on how Oracle offerings can help organisations achieve their digital technology goals, and also open avenues to take advantage of new business opportunities, available both locally as well as overseas.

With more and more companies moving their enterprise applications to the cloud in order to reduce costs, improve agility, and capitalise on software innovations, PwC will help Sri Lankan companies to come on board and embrace this global phenomenon, which has been recognised as an initiative that brings out cost effective results, fast.

PwC Chief Operating Officer Channa Manoharan, said that, as a Global Cloud Elite member of OPN, PwC can offer global leading practices to help Sri Lankan enterprises take advantage of Oracle's Software-as-a-Service (SaaS) application suite, which includes ERP, EPM, HCM and CX. PwC's implementation consultants are Oracle Cloud Certified through Oracle University and have access to PwC's Centre of Excellence for Oracle. "Sri Lankan enterprises can be confident they have the best in class products and services through the relationship between PwC and Oracle. We want Sri Lankan enterprises to also take advantage of this just like many other organisations across the world," Manoharan added.

Across the globe, PwC is a proven choice among business enterprises for Oracle Cloud-related services, as it offers a range of innovative services, for the benefit of the organisations seeking to adopt and transform their business operations digitally.

Oracle Cloud is the industry's broadest and most integrated public cloud. It offers best-in-class services across SaaS, Platform as a Service (PaaS), and Infrastructure as a Service (IaaS), and even lets organisations put Oracle Cloud in their own data center. Oracle Cloud helps organisations drive innovation and business transformation by increasing business agility, lowering costs, and reducing IT complexity.

"PwC has globally demonstrated an ability to deliver successful innovations across Oracle Cloud offerings," said Casey Poon, Senior Vice President of Asia Pacific Alliances and Channels, Oracle. "Its deep knowledge in a vast array of Oracle Cloud offerings, especially our Oracle Applications Cloud, and ability to translate these enabling technologies into strategic, sustainable business outcomes requires a careful integration of Oracle-specific insight and in-depth business and industry knowledge makes them a key player in the Sri Lankan region."

In Sri Lanka, PwC will offer services-related SaaS cloud Suite with focus on applications including ERP, EPM, HCM and CX. Oracle SaaS offerings allow users to subscribe and use application software in the cloud. A modern cloud suite provides complete software for your entire business so that you can subscribe to certain SaaS applications as needed, such as: accounting, HR, procurement, project management, service, sales management, marketing, transportation management, and supply chain.

Oracle Enterprise Resource Planning (ERP) offers a complete, innovative, and proven solution for organisations of many sizes who want to thrive in the digital economy. With industry standards and Modern Best Practice, Oracle is the one cloud for your entire business. Designed to grow with organisations, it manages accounting, financial planning and analysis (FP&A), revenue recognition, risk management, governance, compliance, procurement, project planning, tax reporting, the financial close, and so much more.

Oracle Supply Chain Management Cloud (SCM) delivers the visibility, insights, and capabilities organisations need to create their own intelligent supply chain. Oracle SCM Cloud is the most comprehensive SCM suite in the cloud. Oracle SCM Cloud allows companies to deploy functionality incrementally, with minimal risk, lower cost, and maximum flexibility – all with the benefit of ongoing functional innovation.

Oracle Enterprise Performance Management (EPM) Cloud helps companies of any size lead with confidence in the digital economy. With industry standards and Modern Best practice, Oracle EPM Cloud helps organisations drive accurate and agile plans across finance and lines of business, analyse profitability and cost management, streamline reporting, accelerate the financial close, automate account reconciliations and promote compliance with tax reporting across jurisdictions.

Oracle Human Capital Management Cloud (HCM) offerings enable modern human resources to find and retain the professional talent and increase global agility. A complete talent solution – that's social and collaborative, mobile and engaging – can help organisations understand the appropriate sources of internal and external talent so you can respond quickly to talent needs and execute a forward-looking talent strategy.

Oracle Customer Experience Cloud Suite (CX) helps companies leverage the customer experience to differentiate, innovate, and improve business results. It strengthens customer relationships with a platform that improves service consistency and helps to establish repeatable service quality. It is the most complete, integrated, and extensible customer experience solution available in the market.

PwC has a certified Oracle Cloud Consulting team by Oracle University, which will offer a range of Oracle cloud solutions with innovative approaches of PwC's Rapid fit to Cloud (FR2C). FR2C can deploys a solution within 12 to 16 weeks, Fit to Cloud (F2C) can deploy in 5 to 7 months, and Transform to Cloud (T2C) in 8 to 12 months to deliver related and powerful Cloud solutions for companies in Sri Lanka and in the ASEAN region.