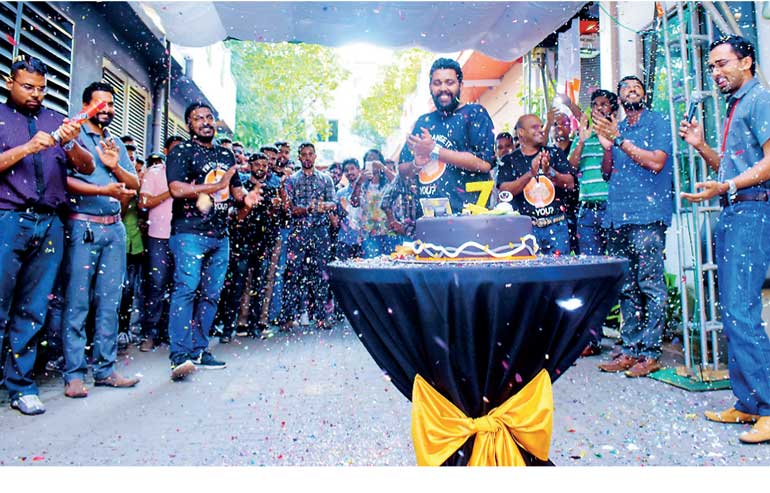 The growth of Orel IT has been phenomenal. It was only last month in December 2017 that the company celebrated their seventh anniversary. Within this short period of time, Orel IT has developed into a strong team of over 2,500 young professionals employed across offices in Nawinna, Meegoda, and Kadawatha. With a wide and extensive range of services and a tremendous track record due to a talented, skilled, energetic and qualified staff, the company has tasted success very early.

Starting from basic Advance Level qualifications to qualified graduates, thousands of young people have found job opportunities and have expanded their horizons, to an extent that they never dreamed of thanks to the vision and foresight of the top management of Orel Corporation. Orel IT is expanding further by setting up a new office in Galle District where operations will commence in the near future. The company carried out a successful recruitment campaign and has been effective in recruiting talented and ambitious individuals who will fit in perfectly with the company culture of Orel IT.

"The common passion and ethos of Orel IT seemed to have bound the 2,500 strong staff team into one well-knitted team," a Company Spokesperson stated. The culture that has been built at Orel IT over the last seven years is of competitive yet rewarding nature. People like to work hard here at Orel IT because they know that they would grow and get greater opportunities, the Company Spokesperson elaborated further.

Orel Corporation Managing Director Kushan Kodituwakku believes in connecting with the people of Sri Lanka and joining them on a journey of creating and witnessing seamless moments of happiness for generations. Kodituwakku has faith in the human resources of Sri Lanka and trusts that Sri Lankans have the necessary competencies for a knowledge economy and the ability to compete globally especially in the Information and Communication Technology Sector.

"I am so proud of our multi-talented, youthful and dynamic set of young professionals who have played a key role in bringing about success to the organisation during such a short period of time." Kodituwakku affirms on a humble note giving credit to every single team player of the company.

Providing a host of IT solutions under one umbrella, the company offers Knowledge and Business Process Outsourcing Solutions, Software Development, Mobile Application Solutions, Digital Solutions with a wide range of revolutionary devices and gadgets, with an extensive offering spanning smart mobility solutions, multimedia devices, wearable-tech and digital surveillance. The Company also offers IT infrastructure solutions that facilitate a stable and secure working environment, powering growth across many industries.

The vision of senior management, passion, and commitment of entire staff has enabled Orel IT to win the ASOCIO Award – as the Most Outstanding IT Company at the World Congress on Information Technology (WCIT) in Taipei World Trade Centre. The Asian-Oceanian Computing Industry Organization (ASOCIO) is an ICT Federation organised by ICT associations representing 24 economies throughout the Asia Pacific.