OPPO, the global Smartphone Selfie expert and leader held a meet and greet featuring OPPO ambassador and popular cricketing star Angelo Matthews, to coincide with the recent launch of the Limited Edition OPPO Dashing Blue model in Sri Lanka.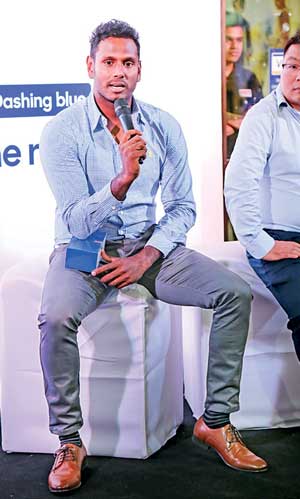 In true OPPO style, the event unfolded in an atmosphere filled with music, a catwalk and a Selfie zone. During the course of the event OPPO Lanka Product Manager Sandun Manage presented the features and the technology that the OPPO F5 Dashing Blue offers to users, while OPPO Lanka CEO Bob Li ceremonially presented a OPPO F5 Dashing Blue to Angelo Matthews. The first five customers to purchase this brand new edition of the F5 series received personalised packaging, autographed by Angelo Matthews, along with a special gift pack from OPPO.

"We've always been able to cater to the needs of the younger generation. In addition to providing our youthful customers with exciting new technology, the Dashing Blue limited edition will provide them with a unique aesthetic appeal. Those who possess the OPPO F5 Dashing Blue edition will be able to make a fashion statement that compliments their unique image," commented OPPO Lanka CEO Bob Li.

Embodying the brand's characteristic passion for fashion, beauty and romance, OPPO F5 Dashing Blue is finished with a glossy blue effect, above which streaks of lights appear gleaming when held to the light. This striking appearance and the classic colour make the device stand out in the crowd, and help the user to make a bold fashion statement.

The device features AI Beauty Recognition Technology, for personalised beauty. The AI feature collects data and understands the features of different people from its centralised image database, which works in favour of capturing the most beautiful version of each individual. The company consulted a number of photographers and make-up artists during the research and development of the AI feature to properly utilise the technology.

The winners of the selfie-sharing competition in the OPPO FB page, who posted their selfies & group selfies using the hash tags #OPPODashingBlue #capturetherealyou received some exciting gift packs from OPPO Lanka at the event.