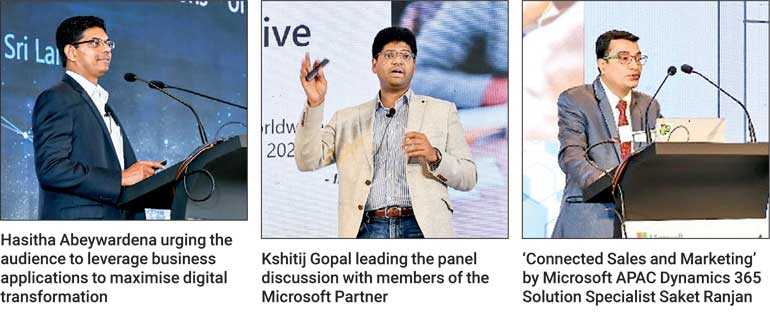 Harsha Randeny (left) leading the panel discussion with members of the Microsoft Partner Community
---
Microsoft showcased an enterprise resource planning and customer relationship management application for enterprise users in Sri Lanka recently.

The event featured interactive demos and a panel discussion demonstrating a new way of managing business processes and unlocking potential for businesses of all sizes.

Dynamics 365 is a cloud-based enterprise software platform, bundling ERP, CRM and HCM products alongside Power BI reporting functions in one streamlined and unified package. The platform is an omnichannel solution that unifies back office, in-store, call centre and digital experiences. Artificial intelligence-based systems provide insights to improve decision=making and personalised services for customers, to ultimately enhance brand loyalty and operations.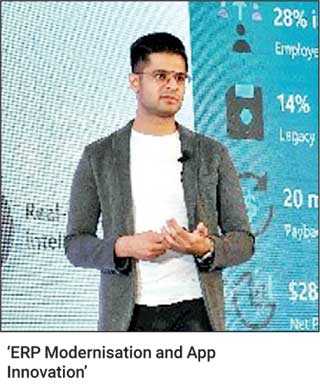 "Business leaders want to digitally transform and believe Microsoft is uniquely capable of helping them succeed on that journey," said Microsoft Sri Lanka and Maldives Country Manager Hasitha Abeywardena.

"We are the only provider of a modern, unified and intelligence-infused family of business applications that span the breadth of business processes."

Future growth across all industries, and the organisation and business models of entire industries themselves, will be driven in large part by applying digital technologies to more intelligently engage customers, reimagine products and services, transform operations and empower employees.

Microsoft APAC Specialist Sales Lead Kshitij Gopal delivered the keynote on 'Accelerating Digital Transformation with Microsoft Business Applications', noting how Dynamics 365 is built around data and intelligence.

"Data from customers, products and people is fuel for intelligence to power transformed experiences, with those experiences further providing data to further refine interactions. We call this the digital feedback loop. Just as every business is constantly evolving, no app that is successfully serving the changing needs of a business is ever complete. That's where Dynamics 365 comes in," said Gopal.

Microsoft Sri Lanka Senior Technical Sales Manager Harsha Randeny led the Partner Roundtable Discussion, an interactive discussion about what makes a great partner community, and what pitfalls to avoid when integrating Dynamics 365. The session also introduced the audience to Microsoft's community platform and engagement practices.

Customers can sign up for the service today as the new release is available as a monthly subscription in three simple versions that include a Self-Serve user, a Task user and an Enterprise user. Businesses can get up and running quickly and match their business growth easily by adding business processes and users with this simple and transparent pay-as-you-go model. For more information visit the Dynamics 365 website.

Microsoft (Nasdaq 'MSFT' @microsoft) enables digital transformation for the era of an intelligent cloud and an intelligent edge. Its mission is to empower every person and organisation on the planet to achieve more.