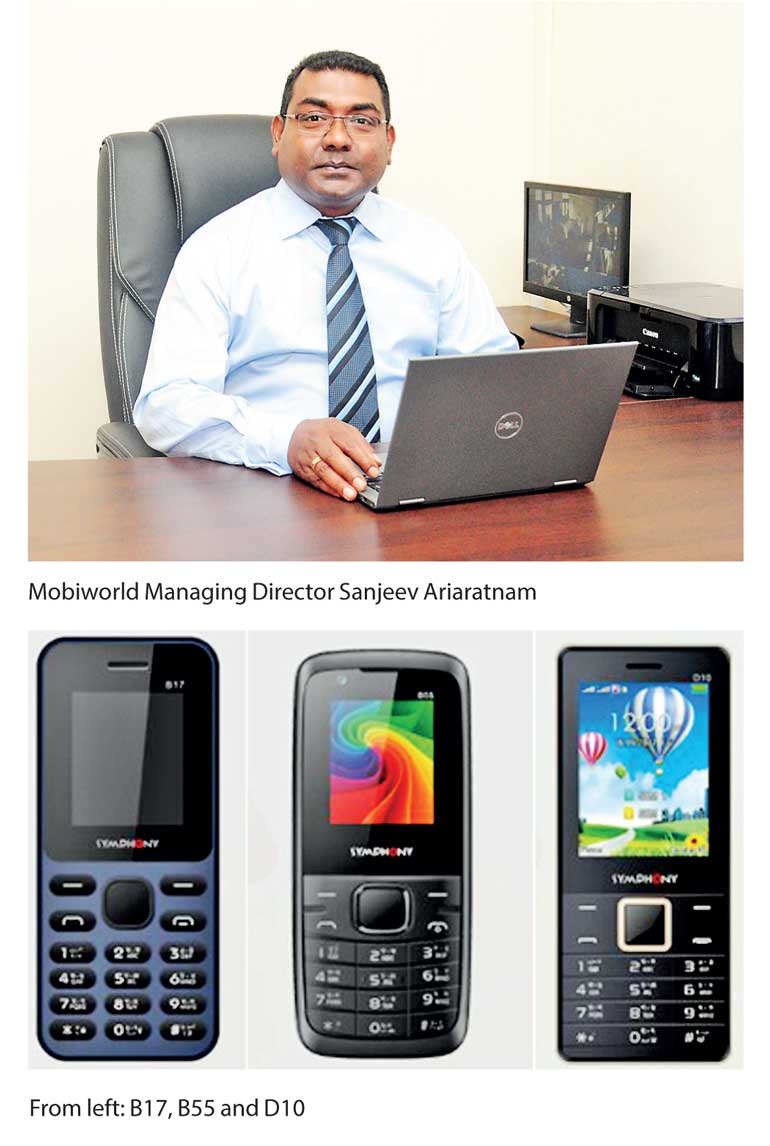 Mobiworld Ltd. recently launched international mobile brand Symphony in Sri Lanka. Bangladesh's Number One Mobile Brand, Symphony sells 10 million handsets a year.

As the national distributor in Sri Lanka for Symphony, Mobiworld has already introduced three Symphony products locally, with all three handsets currently available via a sales network encompassing over 1,000 retail outlets across the nation.

With prices as low as Rs. 1,990, the Symphony mobile range in Sri Lanka currently includes three feature phones, the B17, the B55 and the D10.

Comprising a 1.8-inch TFT QQVGA display, the B17 additionally comes with a 800 mAh Li-ion battery that allows up to 200 hours of standby time and 4 hours of talk time, as well as a handy VGA camera, Further, the phone plays MP3 audio and MP4 movie files, as well as providing FM Radio and even a Torch. The B17 is available in the market for Rs. 1,990.

The Dual-SIM B55 consists of a 1.8-inch TFT QQVGA display, with dual VGA cameras in front and back. Priced at Rs. 2,190, the B55 has a many other exciting features such as Wireless, FM Radio, GPRS, Bluetooth and even a voice changer, Magic Voice, which is backed up by a 800mAh Li-ion battery, with power saving mode.

Another Dual-SIM phone, the D10 offers up more advanced specifications including a 2.4" TFT QVGA display and 1000mAh Li-ion battery, with battery saver mode. This D10 also provides essential functions such as a VGA camera, as well as a MP3 and MP4 player and capabilities for Wireless, FM Radio, GPRS, Bluetooth, Magic Voice, etc. The D10 retails at Rs. 2,390.

Importantly, Mobiworld also includes an unbeatable 30-day replacement warranty with all Symphony products, which undoubtedly greatly improves the buying experience for its valued customers. In addition, Mobiworld also features a very quick after sales service that is well trusted locally, ensuring that any repairs will be handled with the best outcome possible.

Commenting on Symphony's entry into Sri Lanka, Mobiworld Ltd. Managing Director Sanjeev Ariaratnam said, "We are thrilled to partner with a world class brand like Symphony to make mobile phones even more affordable for all Sri Lankans. And we are particularly happy that Symphony has already, within a very short and exciting period, become well accepted in the local market, competing strongly with a lot of the more well-known mobile phone brands. We are sure that Symphony's wide range of handsets will lead to even more interest and passion from consumers so get ready for even more thrilling products and features to come in the near future."

Adding to this, Symphony Regional Business Head Lily Wang said, "We are very pleased to enter the Sri Lankan market, as we see a lot of potential for Symphony in the country. We look forward to a long and successful partnership with Mobiworld."

Symphony is a brand of Bangladesh's EDISON Group, which holds an undisputed leadership position in that country's mobile handset industry. Within short period of time, since its introduction at the end of 2008, the Symphony brand emerged as the fastest growing leading mobile handset brand in Bangladesh.

Relentless work by the company in ensuring exemplary service at all times, and the ability to provide stable and consistent solutions have maintained Symphony as the market leader in Bangladesh's handset segment since 2010.

Aggressive pricing strategy, contemporary features and styling, international-quality builds, a strong distribution network and incomparable after sales service continually contributes to retaining Symphony as the preferred choice of Bangladeshi customers.

A well-respected mobile devices and accessories distribution company since 2017, Mobiworld Ltd. has access to a wide network of regional distributors and over 1,000 retailers island-wide.

Mobiworld is the National Distributor in Sri Lanka for Symphony, Bangladesh's Number One Mobile Brand.