At Inspire Sri Lanka 2019, Microsoft awarded Tech One Sanje the coveted Country Partner of the Year Award, acknowledging its partner's efforts to build innovative solutions and help their customers make progress in the era of digital disruption.
This year, Microsoft acknowledged partners in 10 categories, bringing cutting-edge solutions to complex business challenges and providing digital transformation opportunities for their customers. The Microsoft Partner of the Year Awards recognise members of the Microsoft Partner Network that have developed and delivered exceptional Microsoft-based solutions over the past year.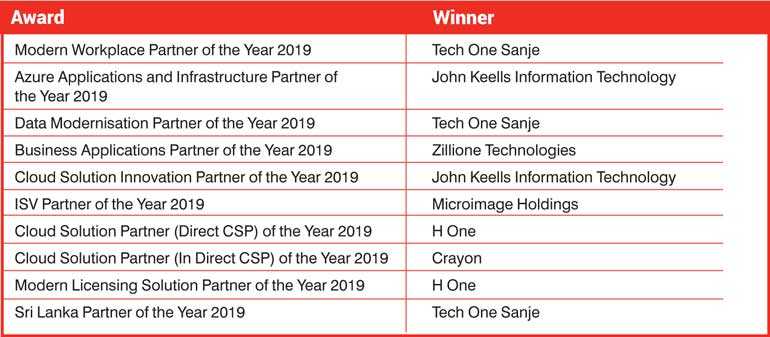 "We're thrilled to celebrate the winners of the Microsoft 2019 Partner of the Year Awards," said Microsoft APAC Southeast Asia New Markets General Manager Sook Hoon Cheah. "These companies are industry leaders helping businesses around the world connect and achieve more. I am truly amazed by each winner, and I am honoured to highlight the incredible work they are doing."

Southeast Asia New Markets Microsoft Regional Commercial Partner Director Anh Pham also emphasised that Microsoft has always been a partner-led company.

"Moving away from transactional partnerships to transformative partnerships is the way forward. What binds us together is not our success, it's the success that our customers achieve.

To ensure our customers succeed and achieve above and beyond, our partners will start their transformation journey keeping customers at the centre. To enable greater engagement, transparency and reach, partners will embrace partnerships that inspire innovation and transformation." "It's an honour to recognise the winners of the Microsoft 2019 Partner of the Year Awards," said Microsoft Sri Lanka and Maldives Country Manager Hasitha Abeywardena.

"These companies are successfully leading their industries, building intelligent solutions, and addressing complex business challenges for their customers in the region.