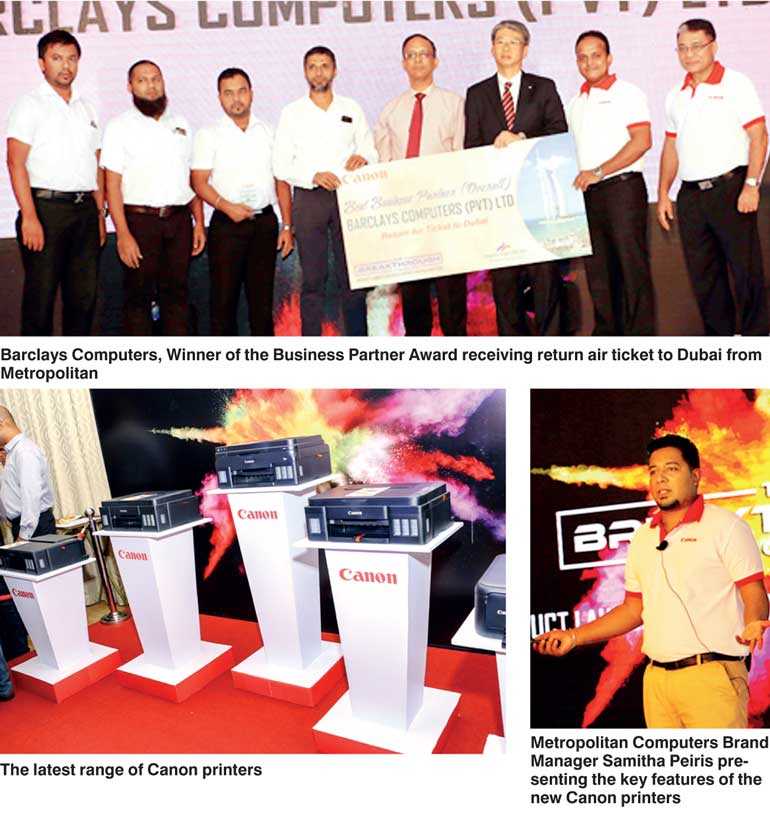 Metropolitan Group, the market leader in office automation is refreshing its extensive portfolio of printers by re-launching four of Canon's highly-popular Pixma Ink Efficient G Series refillable ink tank system printers in Sri Lanka.

The Canon Pixma Ink Efficient G Series re-launch featured G1010, G2010, G3010 and G4010 refillable ink tank system printers. Additionally, it was attended by over 140 business and 60 corporate partners, who were personally welcomed to the event by Metropolitan's Board of Directors. The event also showcased two Canon Photo All-In-One printers, the TS5170 and the TS8170.

The company also recognised its top dealers in an award ceremony held along-side this event which was held at Cinnamon Lakeside. Winners received attractive prizes including overseas tours. Insight Computers was recognised as Best Emerging Business Partner, Sell X Computers – Best Regional Business Partner, Accell Technology Holdings – Best Consumable Business Partner and Barclays Computers was the Best Business Hardware partner and Best Business Partner.

"We are proud to have grown our reach through our valued partner network. Canon printer market share has increased in the last year and we would like to take this opportunity to thank all our regional and Colombo partners for their tremendous support, efforts and commitment to the Canon and Metropolitan brands," said Metropolitan Computers Ltd. Brand Manager Samitha Pieris.

The G4010 is the powerhouse of the series, combining print, copy, scan and fax functions in a compact body. This wireless multifunction machine comes with a two-line LCD display that simplifies common copy and scan functions. The ideal printer for homes and small businesses, the G3010 is a multifunction printer that copies, prints from, and scans easily to mobile phones, tablets and laptops over Wi-Fi.

A 1.2 inch segment LCD display delivers on the basics such as making multiple document copies easy, and also enhances ease of use for a variety of printer configuration options without a PC, including Wi-Fi setup.

The G2010 delivers on high volume printing needs for users of connected PCs. A 1.2 inch segment LCD panel, similar to that on the G3010, makes it easy to execute multiple copies. For users and businesses with high volume printing needs, the G1010 is the ultimate low-cost solution. Crisp text and solid colours show up in every document printout, and photos printed with the G1010 display bright and vivid colours every time.

It is also noteworthy that these four Canon Pixma Ink Efficient G Series printers incorporate an improved version of the same integrated-in-body ink tank design that was popularised by previous G series models, with improved print head and increased capacity of waste ink absorber unit. Printer durability has also been enhanced significantly, so high volume printing can be achieved with the minimum of downtime.

"Canon makes colour printing more affordable helping to slash costs, while maintaining high volumes and a minimum downtime, Canon Ink Efficient G Series printers are truly what you need if you are serious about printing. Long print runs become seamless and cost-effective with the built-in refillable ink tank system that is key feature of the G1010, G2010, G3010 and G4010 models," said Canon Singapore Ltd., Vice President Takeda Satoru who flew in especially for this high profile event.