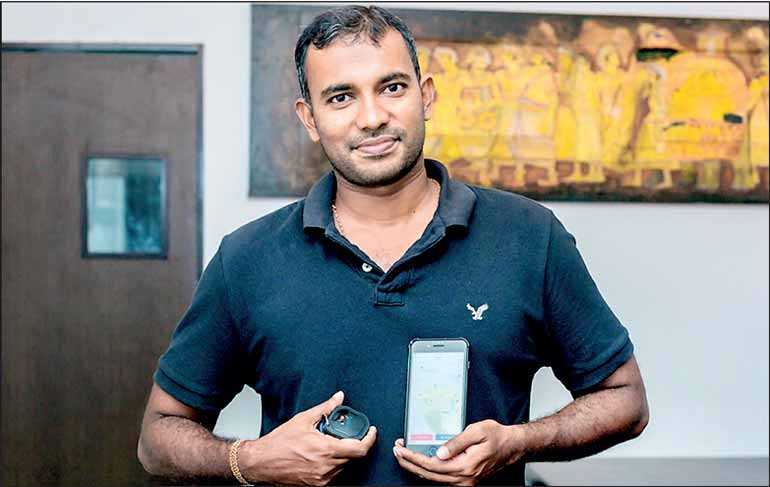 TrackieX founder Sritharan Nadeshkumar
---
Most if not all startups are born out of the need to address a void or problem that has yet to be solved. TrackieX is no different. This device will enable parents to track their children's movements and lookout for the safety of their child when they are away.

"I was inspired to work on something like TrackieX for two reasons. First was thanks to the inspiration and momentum I gathered from the Yarl Geek Challenge and second, was during a time I went to pick my son up from school and had difficulty locating him. I knew I was not alone when it came to the safety of my children and I began speaking to a few of my son's friends' parents and realised that they too constantly worried about the safety of their children when they were away," said TrackieX founder Sritharan Nadeshkumar.

A graduate in computer science Nadesh began journeying in the tech landscape with IronOne Technologies in 2006. He remained there for over twelve years during which he also completed his Masters in Computer Science in 2016 from the University of Moratuwa.

Having explored the available options in the local market, Nadesh soon realised that most tracking solutions were originally designed for fleet management. Having covered enough groundwork to understand both the need in the market and available resources, Nadesh began with disintegrating a device he imported from China to comprehend how best he can build the app to be both simple yet efficient.

Currently in its pre-ordering stage, TrackieX is a small black tag that can be attached to a school bag or kept inside a pocket. The device also comes with an Airtel SIM with a year's worth of data. The app is free of charge and is available on both Android and iOS devices. Once a device is purchased, the user enters a unique code and PIN into the app and can begin tracking their child's exact location in real time.

However, the app also goes beyond its ability to provide location alerts. TrackieX also has speed alerts built especially for children travelling in private school services. The app provides a location history of 60 days, a SOS button and a parent can also mark a location or geographic area, such as a school or tuition class, which will alert the parent when the child enters or exits the marked location. "As a parent I constantly worry about the safety of my child. However, as someone working in the tech industry, I also worry about safety of devices and possible security breaches. I admit that no technology is perfect however, we have tried our best and adopted a series of security measures. Along with the SOS button, each tag has a unique code and PIN that needs to be entered to activate the device. Once entered, no other app can get the location of the tag," said Nadesh.

TrackieX is currently available for pre-order and will hit retail markets starting mid February 2019. The startup has also pledged to donate Rs. 100 to SOS Children's Village in Sri Lanka for every device purchased.

TrackieX was designed to help busy parents stay close to their children so they can enjoy the fun of childhood while you can have peace of mind, wherever they go. The device is a small black tag that can be attached to a school bag or kept inside a pocket, which will help parents not only keep track of their children but also alert them during the case of emergency.