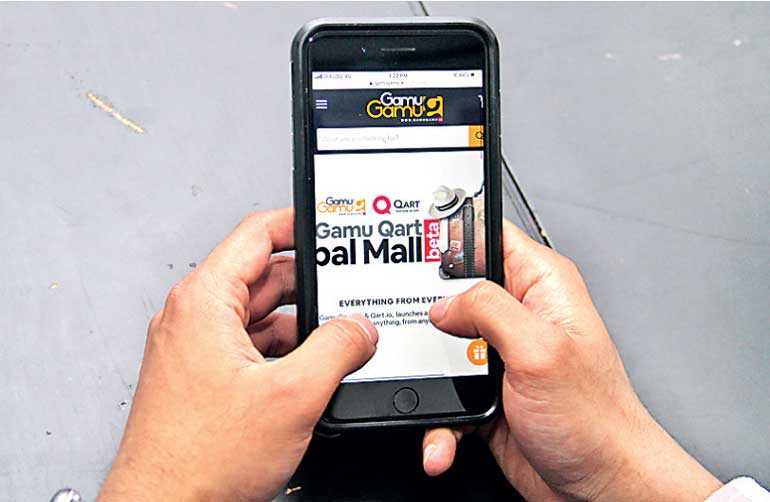 Any Sri Lankan who has either travelled or lives overseas knows the struggle of having to bring down products for their relatives and friends living in Sri Lanka. This is a long-running tradition that's fuelled by the absence of certain brands locally and cheaper international prices, particularly at duty free stores.
However, while cheaper and more reliable than ordering through e-commerce platforms, this method has some obvious limitations.

For one, you have to wait till somebody you know goes abroad. Secondly, you are never sure if you are imposing on someone or adding to their burdens by requesting them to get something for you, particularly due to time and luggage constraints.

It was to address these issues that two young men decided to launch GamuQart, a global mall which allows Sri Lankan consumers to bring down products from all over the world at cheaper prices through a network of registered travellers.

The initiative came into being through the partnership of two already existing entities GamuGamu.lk website/app and the Qart website/app.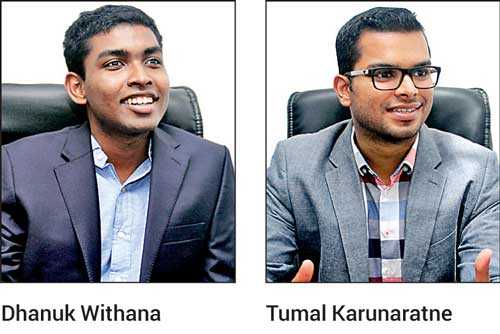 The beginning

Before GamuQart, there was GamuGamu.lk, which is a highly curated online store that allows Sri Lankan consumers the opportunity to purchase their daily essentials without having to leave home. The website is a solution implemented by both TSL Holdings and Wickramaratne Logistics, both family-owned companies that are a part of the fast-moving consumer goods (FMCG) market, in order to adapt to modern trade needs.

"The retail landscape is changing from general trade to modern trade; now it's gone towards e-commerce. As family-owned businesses, we need to keep up with the changing retail environment, so we launched our own e-commerce platform, which is GamuGamu.lk," said Director of Retail Tumal Karunaratne.

GamuGamu.lk began its journey in July 2019 with the delivery of daily essentials such as products from Unilever and McCurry, and also food items like mung bean. Their main focus was on having complete control of the supply chain, from product sourcing to delivery within 48 hours.

With operations underway, GamuGamu.lk wanted to go a step further and provide the Sri Lankan consumer something completely revolutionary; they looked to Qart, an international social logistics marketplace connecting consumers with travellers from all around the world.

Qart is a San Francisco-based start-up founded by Dhanuk Withana in February 2019. It gives consumers worldwide the opportunity to buy products otherwise unavailable in their country, through the help of travellers heading their way.

"Consumers from anywhere in the world can say they want to get this delivered here because it's either not available in their country or it's cheaper to get it delivered. So what we do is partner with travellers who are going to those countries and have them buy the product and deliver it to the consumer when they land. This way, the consumers save on shipping and the traveller makes some extra money as well," said Withana.

Qart acts as the middleman, enabling the connection between the consumer and traveller and handling the payment process as well, ensuring the traveller gets paid only after the product is delivered.
Trust paramount

The partnership between GamuGamu.lk and Qart looks to combine all the aspects that make them stand out and increase the level of convenience offered to Sri Lankan consumers.

GamuQart partners with travellers to bring down the desired products to Sri Lanka, and uses GamuGamu.lk's delivery service to deliver the product to the consumer, increasing convenience and trust.

"One of the biggest reasons for this partnership is the trust factor. As a local entity that has been in the country for a long time, we put our name alongside Qart to give that level of trust and service to the consumer," said Karunaratne.

Withana adds to this by stating that while Qart can operate as a single entity, their integration with GamuGamu.lk not only adds convenience, but ups the trust factor as well.

He went on to state that because of the partnership, customers are able to make payments via card or cash for the delivery and Qart will take care of the payments to the traveller.

"By having a local partner, you can even pay in rupees instead of dollars. But the true value addition is going to be us coming and delivering it to you."

How the global mall works is, if a consumer is looking for a product that is not available or affordable in Sri Lanka, all they have to do is go to the GamuGamu.lk website, enter the GamuQart portal, and share the link of the product they want, after which GamuQart will confirm the order within a day or two and ask for a down payment on the purchase.

According to Karunaratne, the need for down payments will vary depending on the consumer's history on the website, including the frequency purchases.
Process improvements

He stated that the entire process currently takes about two weeks, but the companies are currently working on reducing the time taken in order to increase convenience for their consumers.

Withana emphasised that GamuQart is not just for mainstream items such as Apple products and other electronics, but also for many niche products like specific clothing or food items that can be found only in certain parts of the world.

He stated that this concept also applies to essential items such as medicine for diseases which are not always available here.

However, in order to abide by the laws of the country, the website gives both the traveller and consumer information on what can be brought into the country and what cannot.

Withana also stated that GamuQart also systematically prevents the bringing down of products for retail purposes. He related an example, stating that the site would not allow a consumer to order 10 iPhones.

"Our positioning is as a social logistic platform; so we patrol it, but the item is carried in the traveller's personal luggage and is owned by them up until it is delivered to the consumer."

GamuQart also uses reverse logistics to send products out of the country, thereby also providing Sri Lankans living in the island the opportunity to make some money as well.

Withana explained that these products can be sent back either through a local travelling to the consumer's country or a foreigner and because of the partnership with GamuGamu.lk, the product can be delivered to the traveller without them having to look for it.

"We've tried it out with several spices, where a traveller delivers the spices to the country they are travelling to, and it's been successful so far," said Karunaratne.

He also stated that they plan on listing many start-ups, including home bakers, on both GamuQart and GamuGamu.lk, in order to provide them logistical support, and help them reach out to a more global market.

Withana stated that the price quoted for a product on GamuQart includes all costs – from the delivery charge to the traveller payment – and also adds to their revenue.

GamuQart takes convenience a step further by becoming the consumer's personalised shopper, by suggesting better deals for the consumer as well.

"If a consumer asks us for something like the Apple Watch Series 4, we can conduct our research and get back to them with information on where they could get the Apple Watch Series 5 for the same price," said Withana.

Karunaratne stated that GamuQart has already been tested by several consumers and local influencers, garnering very positive responses.

A beta version of GamuQart is currently online and can be accessed through both the GamuGamu.lk website and app.