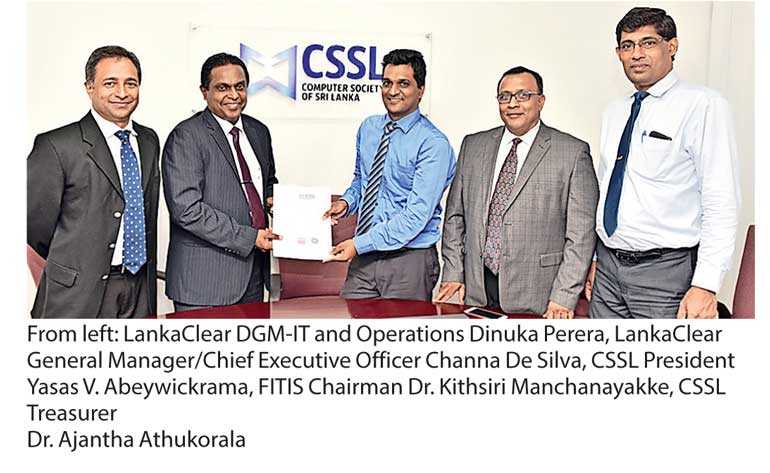 LankaPay, Sri Lanka's national payment network operated by LankaClear Ltd. under the guidance and supervision of the Central Bank has joined as a proud Gold Sponsor of the National IT Conference – 2018 (NITC – 2018), scheduled to be held from 2-4 October at Shangri-La Hotel, Colombo Sri Lanka.

NITC-2018, under the theme 'It changes everything" is organised by Computer Society of Sri Lanka (CSSL) for the 36th consecutive year. The MoU signing ceremony was recently held at the CSSL Secretariat Building and graced by top officials of both organisations including Lanka Clear General Manager/Chief Executive Officer Channa De Silva and CSSL President Yasas V. Abeywickrama.

'This Changes Everything' – many of us would like to associate ourselves with this phrase from Steve Jobs at the iPhone launch in 2007. All those who are enthusiastic about information and communication technology (ICT) precisely because they believe and hope that "it" will change everything – for the better, for everyone. With this in mind this year's NITC will feature following main tracks. Social Implications of Artificial Intelligence, ICT and Sustainability, Our digital lives, Security in the information society: visions and perspectives, this changed everything, Privacy, data protection, and automation, ICT and an inclusive society, CxO Forum.

In addition, NITC has extended the journal/paper submission deadline until 20 July. The selected publications will feature on IEEE Xplore Digital Library, thus featuring researchers on a global platform. This year's conference will feature number of seasoned international and local academics including Dr. Moinul Zaber, Jeremiah Palmerston, Carey Furze, Tom Worthington, Prof. Boris Delibasic, Sunil Jose, Dr. Pallab Saha, Dr. Malitha Wijesundara, Prof. Asanga Abeyagoonasekera and Prof. Gihan Dias.

In addition, a number of eminent professionals including Manju Gunawardana, Channa De Silva, Eranda Ginige, Bradley Emerson, Nalaka Gunawardena, Dulitha Herath, Dinuka Perera, Jiffry Zulfer, Craig Horne, Peeyush Arya, Wasantha Perera, and Sandalal Edirisinghe will also join them as presenters.

The NITC 2018 is organised under the leadership of Dr. Parakum Pathirana, General Chair – NITC 2018, with the guidance of CSSL President Yasas V Abeywickrama, CSSL Vice President Prabath S. Wickramaratne and the executive council of CSSL.