LSEG Technology was awarded the title of Best Exporter in the Information and Communications Technology (ICT) Sector at the recently concluded 23rd edition of the Presidential Export Awards presented by the Export Development Board (EDB) of Sri Lanka.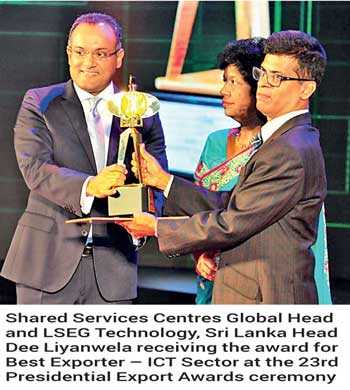 This marks the fourth time LSEG Technology (formerly MillenniumIT) has won this prestigious award in recognition of the organisation's exemplary record of exporting Sri Lankan engineering to the world. Dee Liyanwela, Global Head of Shared Services Centres and Head of LSEG Technology, Sri Lanka said: "Winning this award exemplifies the ethos of excellence that is practiced at LSEG Technology. We are truly honoured to be presented with this title for the fourth time."

He further went on to state, "We have always looked to create a positive impact within the country and the economy through our business practices. Winning this award highlights the trust our customers around the world over have placed in Sri Lankan engineering; providing fintech solutions that drive global economies forward." LSEG Technology's market-leading trading and post-trade products help improve operational efficiencies for over 40 financial market infrastructure and financial services firms.

The Presidential Export Award was initiated in 1981 and is the most prestigious accolade recognising Sri Lankan exports for their significant contribution to the export development and economic growth of the country.