The LOLC Group Technology team with the CIO 100 Award
---
LOLC's Conrad Dias amongst 11 CIO Hall of Fame inductees – 1st Sri Lankan to be inducted to the global CIO hall of fame
---
LOLC Holdings PLC has been listed among 100 honourees for 2020 amongst a list of esteemed global organisations at the annual CIO 100 Awards. It is the first time ever that a Sri Lankan company has been bestowed with the CIO 100 Award.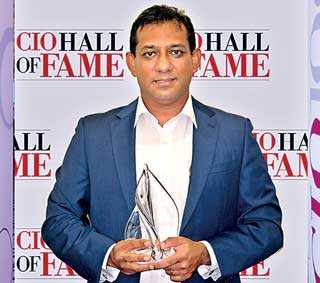 Conrad Dias, former Group Chief Information Officer of LOLC Group and current Director/CEO of LOLC Finance with the CIO Hall of Fame Award 2020. He was selected as one of the 11 CIO Hall of Fame inductees for 2020
---
Meanwhile, Conrad Dias, LOLC's former Group Chief Information Officer and current Director/CEO of LOLC Finance PLC and Director LOLC Holdings PLC was selected as one of the 11 CIO Hall of Fame inductees for 2020 out of a pool of global CIOs, becoming the first Sri Lankan CIO to be recognised to the Global CIO Hall of Fame.
The CIO 100 Awards celebrates 100 organisations and the teams within them that are using technology in novel ways to deliver innovative and ground-breaking solutions to customers. The award is a global hallmark of enterprise excellence. This year, LOLC was listed amongst some of the most renowned global corporates such as Bank of America Corporation, General Electric, GSK, JP Morgan Chase, Morgan Stanley, Mastercard, Nestle, Schniederand and many more.

According to CIO 100, this year's honourees exemplify what it means to deliver business value through the innovative use of technology. While announcing the winners, CIO 100's editors noted that LOLC and other honourees "exemplify what it means to deliver business value through the innovative use of technology. This elite group is creating competitive advantage in their organisations, improving business processes, enabling growth and improving relationships with customers".

The LOLC Group, which is primarily involved in providing financial services for customers at the bottom of the wealth pyramid has always been at the forefront of technological innovations. As part of this 'digital-drive', the company understood the need to disrupt its own business model and adopt technological capabilities to innovate and challenge traditional business models, in order to stay ahead of its competition, both locally and internationally.

The foundation was laid with the creation of a 'digital twin' to our existing business model, challenging the status-quo and driving towards a digital transformation of our business. The result was the launch of iPay – a platform beyond payments that has revolutionised the Fin-Tech space for both customers and merchants. The iPay ecosystem operates with the vision of democratising payments, money transfers, electronic commerce, banking, lending, insurance, advertising and many other services.

It also empowers merchants, providing them with a low-cost digital marketing and selling platform, allowing start-ups and other small scale businesses to play a more active role in the economy. Today, iPay has reached beyond Sri Lanka to other geographies, slowly becoming a regional platform, which can be identified as the LOLC Group's Fin-Tech Playbook.

IDG's (International Data Group's) CIO, the executive-level IT media brand providing insight into business technology leadership also announced the 2020 CIO Hall of Fame inductees. CIO's Hall of Fame is a personal leadership award that celebrates outstanding achievement in information technology management. The CIO Hall of Fame honours the men and women whose work has advanced the CIO role and demonstrated sustained business success. CIO announces that along with their significant career accomplishments in the field of IT, Hall of Fame members have all demonstrated substantial business impact and technology vision within one or more organisations.

The first Sri Lankan to be presented with the CIO Hall of Fame award, Conrad Dias joined LOLC Group as its group CIO back in 2006, when the company was only engaged in a single line of business (financial services) with just 17 branch locations in the country. As the group CIO, Conrad spearheaded the entire technology and business transformation in the group that is now spanning across both local and international operations.

Conrad was the driving force behind the group's ICT strategy and execution for its transition to 300+ locations, connected online, real-time with 50+ business entities spanning multiple business lines including Trading, Manufacturing, Plantations and Leisure apart from the group's core Financial Services. Many of Conrad's initiatives within the LOLC Group are considered as the "firsts" in the country.

Speaking about this global recognition, LOLC Group Managing Director/CEO Kapila Jayawardena said, "The LOLC Group has transformed to an absolutely tech-driven organisation. This has helped us to innovate more effectively and use technology to solve various business needs. At LOLC, we are keenly using technology to drive and deliver business value by optimising our processes, improving customer relationships and experiences that enable growth. We believe that this will be a solid foundation for our future growth as we continue to expand as an international organisation. The CIO 100 award is a great honour, and it is a reaffirmation that we are heading in the right direction."

Now in its 33rd year, the CIO 100, recognises 100 organisations for their achievements in technology innovation. Each year, CIO 100 recognises the premier organisations and executives driving IT innovation with these prestigious awards. Winners are chosen by a team of external judges, many of them who are former CIOs, on their use of leading-edge IT practices that produce measurable results. The award is an acknowledged mark of enterprise excellence. This year, the award ceremony and symposium is scheduled to be held as a virtual event during the month of October.