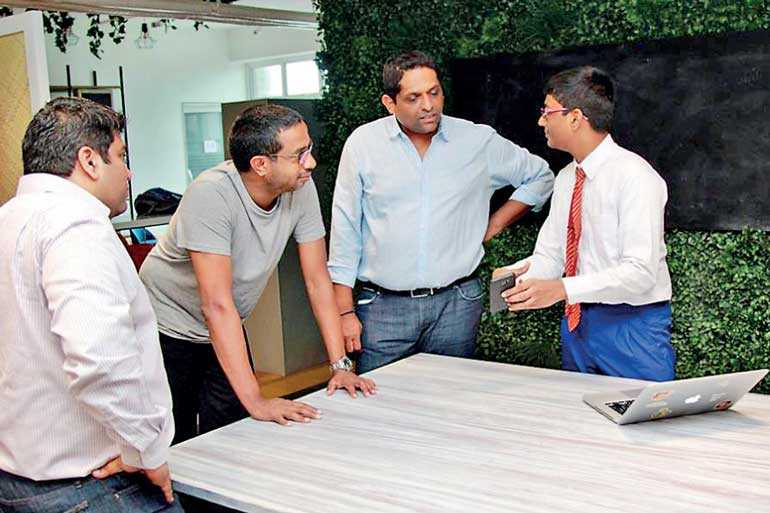 YGC Special Guests Jeevan Gnanam and Nathan Sivagananathan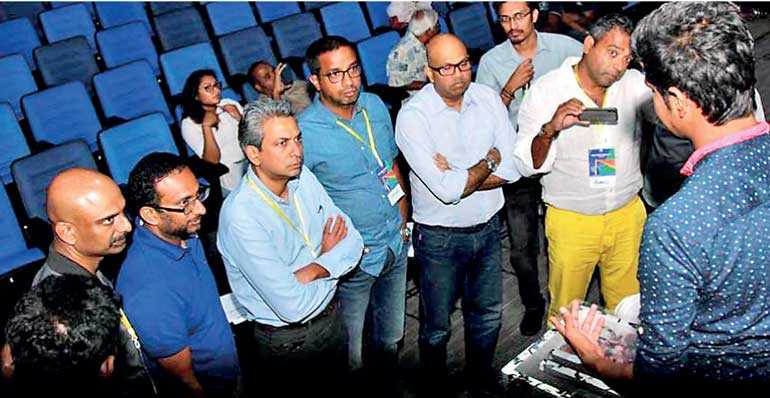 Rajan Anandan and other LAN members evaluating teams at Yarl Geek Challenge Season 7
Longtime Lankan Angel Network (LAN) member Murali Sundar, through his Canada-based multinational company Marcatus QED Inc, has signed on as the Platinum Sponsor for Geek Challenge (YGC) Season 7, which concludes with a Grand Finale in Colombo on 17 November.

This annual startup competition, organized by the Yarl IT Hub, recently held its Semi Finals in Jaffna on 2, 3 and 4 November.

The strategic partner for YGC since 2014, the Lankan Angel Network is Sri Lanka's pioneering Business Angel Network, which has collectively invested over Rs. 2.2 billion in 30+ startups to date, including YGC Season 3 winner Busseat.lk.

Since its beginnings in 2001, Marcatus QED, which was founded by Sundar and where he currently serves as President and CEO, has dedicated itself to delivering quality, fresh and safe agricultural products around the world, from its operating offices in UK, Mexico, India, China and Canada. Marcatus QED's client portfolio includes several well-respected brand names in North America, Europe and soon North and South Asia.

According to Sundar, "As the Platinum Sponsor of the YGC, it was an incredible experience to meet and support all of the bright young tech talent at this fantastic event. Sri Lanka, and Jaffna specifically, has an immense wealth of innovative minds ready to tackle the world's most pressing problems."

In addition to coming on board as YGC's Platinum Sponsor for 2018, Marcatus QED also launched a new segment, the Agri Tech Challenge, which was coordinated by Rajan Anandan. The Patron of the Lankan Angel Network, Anandan is Vice President for India and South East Asia at Google, and the Co-Founder of BOV Capital, the first Sri Lanka-and Singapore-based venture capital fund focusing on Sri Lankan ventures that export technology-oriented products and services.

Elaborating, Sundar added, "Marcatus QED issued our own agri-tech challenge at the event: 1) A semi-automated harvesting machine; and 2) A portable growing ecosystem. I was amazed by the talent, ambition and designs of the finalists and we hope to work with at least one of these groups moving forward. These young thinkers have the potential to change the world."

Importantly, winners of the Marcatus QED Agri Tech Challenge were also awarded a total off Rs. 500,000 in prize money, with Rs. 200,000 received by the winner and Rs. 100,000 each going to the top three runners-up.

Meanwhile, Anandan, who was also a keynote speaker at the YGC Season 7 Semi Finals in Jaffna, commented, "My thanks to the Yarl IT Hub team for being incredible change agents and on continuing their truly audacious journey. I am incredibly impressed and massively inspired to see firsthand what all of you are doing. Thank you for the incredible leadership."

At the same time, Anandan and his BOV Capital co-founder Prajeeth Balasubramaniam extended an invitation to the YGC Season 7 finalists to join the 2018-2019 cycle of Venture Engine, a highly anticipated entrepreneurship program organised by the Lankan Angel Network. Undoubtedly, these teams will benefit from Venture Engine's emphasis on mentoring, networking and workshops.

Out of 17 teams that took part in YGC in 2018, 11 progressed to the Grand Finale, to be held in Colombo in mid-November. These include Team Phoenix and its Genesan Sole, a device to detect potential symptoms of diabetic foot ulcer; Team Porukki's robot to collect floating plastic and polythene; and Team Codezilla's mobile solution for preventing and curing Arthritis.

Also selected, Team Skyline Printers, the developers of an application to print items and get them delivered to your doorstep; Team Codeaxive's physical platform, Space, for kids to enhance their English communication skills; Team Electros and Metros, a solution to stop wasting electricity; and Team Thulaiko and its app Cuckoo, which only delivers food from restaurants within a one km radius.

The remaining finalists were Team IOE and Fooding, which was created to help reduce food wastage; Team TJAMS and its app Greeners that promotes all aspects of urban gardening; Team Crazy Coders and its online vegetable market Angaadi; and Team Atronics who presented an irrigation solution that automatically waters or otherwise resolves crop dehydration issues.

Over the years, the Lankan Angel Network has played a vital role in Sri Lanka's start-up eco system, through programs such as Venture Engine – bringing entrepreneurs and investors to one platform, Asian Business Angel Forum (ABAF) – promoting cross boarder investments, #IAMHER – Empowering and promoting women entrepreneurs, hackathons – incubating ideas throughout the country and the Angel Pitch – the Network's regular pitch event that takes place throughout the year.