From left: Synergy Computers CEO Iqbal Ahmed, KS&EW Shipyard Training School (STS) Principal K.A. Hussaini, KS&EW Director Finance Cdre Abdurehman SI(M), KS&EW General Manager Submarine Construction Cdre Adil Umer SI(M), Synergy Computers Country Manager Tariq Batti, KS&EW Managing Director Rear Admiral Ather Saleem SI(M), IFS Director Sales and Marketing South Asia Shiraz Lye, KS&EW General Manager IT Cdr (Retd) Farooq Ali and IFS Country Director Pakistan Poorna Bandara
IFS, the global enterprise applications company, announces that Karachi Shipyard and Engineering Works Ltd.(KS&EW) will deploy IFS Applications 10 as its ERP backbone for managing core business processes such as project management, manufacturing, maintenance and engineering.

As Pakistan's largest shipyard and oldest heavy engineering establishment, KS & EW plays an important role in the broadening of the country's industrial base. To promote productivity and ensure efficiencies across its operations, the company needed to replace its legacy systems with a modern and fully integrated ERP solution.

Following a comprehensive evaluation process that included a number of major ERP vendors, KS&EW chose IFS Applications. With the implementation of IFS Applications, all processes will be managed in a single, integrated platform that will give the company complete process visibility in real time as well as improved information accuracy.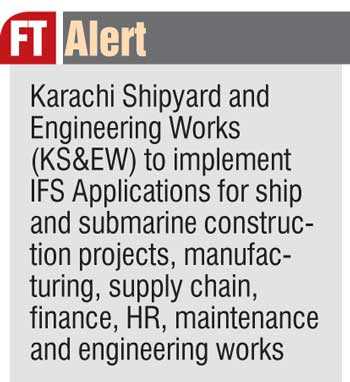 "We are impressed with the capabilities of IFS Applications and are delighted to work with a global ERP provider which has successful track record in supporting companies particularly in shipbuilding," expressed KS&EW Managing Director Rear Admiral Ather Saleem SI(M). He added that the IFS will endeavour to accomplish the project well in time and pave the way to bring improvement and enhance efficiency in the yard's processes and working methodologies.

IFS in South Asia Director Sales and Marketing Shiraz Lye added, "We are confident that IFS's technology will bring about great improvements in efficiency, as well as greater visibility and integrity throughout the company's vast scale of operations. IFS fully understand the business challenges associated with such a large-scale implementation and our team has extensive experience in working with clients in this sector. With our expertise and best practices, we look forward to delivering an outstanding solution that will meet the high standards of KS&EW."

The implementation will be supported by Synergy Computers Ltd., a member of the IFS Partner Network.

Synergy Computers CEO Iqbal Ahmed added, "The combination of functional and technical capabilities of IFS Applications and the service delivery of Synergy Computers will ensure that the business and operational requirements of KS&EW are met in full. With our expertise and best practices, we look forward to delivering an outstanding solution that will meet the high expectations of KS&EW. We are excited to be a part of this project, which is of national interest, and look forward to delivering it on time and on budget."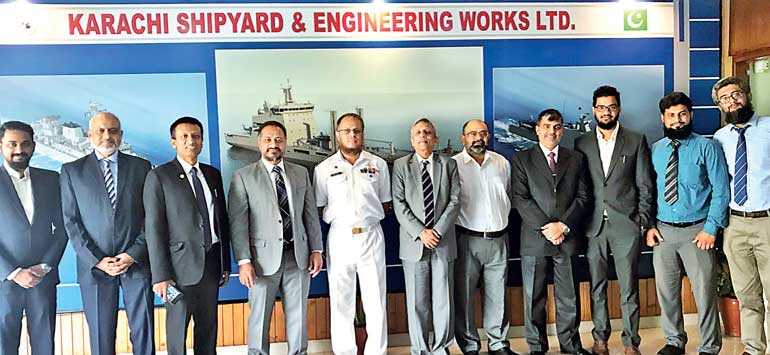 The team from IFS, KS&EW, Synergy Computers and Logic-Unit after signing