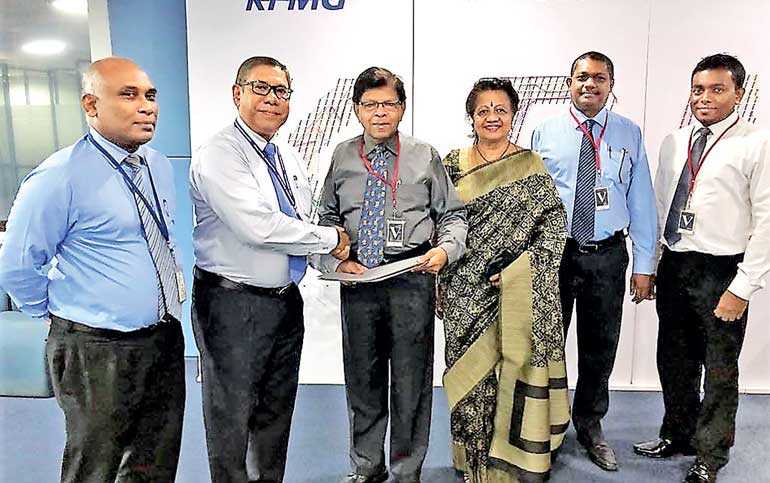 KPMG Managing Partner Reyaz Mihular (2nd from left) exchanges documents with Imperium Chairman Ken Nirmalan and his wife. KPMG Technology Solutions (KTS) Senior Partner and Head Priyanka Jayatilake (far left) represents KPMG in the signing ceremony
By Sun Lai Yung

In 1818 when John Moxham opened a Chartered Accountant company in Bristol, little did he realise that his company will survive 201 years over a span of three centuries to become KPMG of today. Generally KPMG is globally known as the top four in Accounting, Audit, Tax and Advisory services. Most people still think KPMG is an audit and tax company. What most people don't know is that KPMG is the largest of the big four when it comes to Microsoft Dynamic Consulting and implementing IT in Europe.

Most are unaware that KPMG is into technology and an emerging IT solution company. Today, the network of member firms exists in 154 countries and territories, with 197,263 qualified staff.

KPMG Sri Lanka acquires two leading technology companies in the last 9 months

KPMG Sri Lanka was established in 1897 and is 121 years this year. KPMG Sri Lanka has tapped into local innovation on a global scale combining global perspective with industry knowledge to harness technology to improve client business.

KPMG Sri Lanka's latest acquisition is taking over the business of Imperium Ltd., a dynamic software design, development, technology and services company. It all started a year ago when KPMG took a strategic decision to acquire a leading technology company. This was the birth of KPMG Technology Solutions. (KTS) In less than a year KTS acquired the business of imperium Ltd. Today KTS has over 50 staff dedicated to provide IT solutions to KPMG's Sri Lanka and regional clientele covering Middle East, South Asia. (MESA)

It is interesting to note, within a short span of less than a year, KPMG Technology Solutions was awarded three out of four awards, namely Oracle ERP Partner of the Year, Oracle SCM Partner of the Year and Oracle SaaS Partner of the Year for SAGE region in the 'FY19 Oracle SaaS Partner Forum' held in Cinnamon Lakeside – Colombo; indicative of KTS very dedicated and talented pool of IT personnel.

Moving away from traditional style of doing business

KPMG Global has acquired over 20 technology and media acquisitions since 2014. Times are changing, those who do not adopt and change will not survive the next decade, leave alone a century. It's not having your accounting books in order, but protecting one's data. Then the question arises; as to "what do we do "with this data? In a recent article by the author covered such concerns. "The challenge is to constantly be ahead of the cyber criminals — a task which is very difficult to achieve," says Ali Ahmed Al-Kuwari, CEO of Qatar-based QNB Group, the largest bank in the Middle East and North Africa region. "While cyber security used to be considered an issue primarily for the IT department, these days it is a permanent agenda item for the entire Board, where all are responsible for. CEOs are concerned about the robustness of their defences. Only about half of CEOs (51%) believe they are well-prepared for a cyber-attack. (Refer KPMG Global CEO Outlook 2018, FT article by Sun Lai Yung, June 6, 2018)

For today's enterprises, profitable growth is an imperative, not an option. It takes deep insight, smart decisions and practical confidence to catalyse sustainable growth. The growing customer and market data creates enormous opportunities for organisations of all types. From new customer and portfolio acquisition strategies through to the development of new business models, today's leading organisations rely on their data and analytics to drive profitable and sustainable growth and smart manufacturing. This is where KPMG can partner its client to exploit the challenges and opportunities through its technology arm.

KPMG global acquisitions

KPMG acquired Social Media Intelligence Group called as SR7 in Australia, Cynergy and Link Analytics was acquired in the US, KPMG in the UK, Netherlands and Malta jointly acquired Crimsonwing. All these tech acquisition is in line with its global vision of growth and transformation of its business and its client business.

These acquisitions paves the way for digital experience which focuses on helping businesses integrate digital and mobile technologies across the enterprise. Provide analytical technology companies specialising in developing data analytics (D&A) transforming complex data into actionable and repeatable analytical technology solutions. Adding innovation to the value of Data Anayltics. The entire focus of KPMG Data & Analytics professionals is to facilitating companies drive value by making better, faster decisions.

KPMG does more than simply invest in tomorrow's business solutions. It helps its clients grow, perform and succeed by helping bring together the right experience, the right infrastructure and the right opportunities to turn great ideas into business value.

KPMG Technologies is investing in companies that live on the leading edge of innovation. Their investments accelerate and commercialise innovative software solutions that leverage core strengths and help create competitive advantage for its local clients and organisations around the world.

Every CEO and business leader wants to improve and sustain business performance. But few have the right insights, digital literacy or sufficient confidence in their data to make reliable decisions about the current state of their organisation and bold decisions about the future. Partnering KPMG would make the difference.


(The writer is Head of KPMG China Desk and Consultant.)