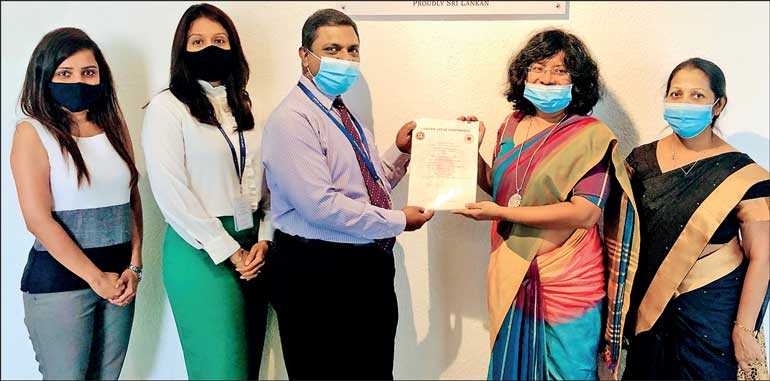 From left: Just In Time Group Assistant Manager - Business Process Transformation Imalka Wijekoon, Just In Time Group Chief Operating Officer Sherene Goonetileke, Just In Time Group Chief Executive Officer Chrishan Mendis, Sri Lanka Standards Institution Director General and Chief Executive Officer Dr. Siddhika G. Senaratne, and Sri Lanka Standards Institution Director of Scientific Standards Ipsitha Jayasekera, FacebookTwitterMore2
---
To reduce the impact of the COVID-19 outbreak conditions on businesses, workers, customers, and the public, it is important for all employers to be prepared in advance to handle this outbreak. Employers who have not prepared for pandemic events should prepare themselves and their workers as far in advance as possible. Lack of continuity planning can result in a cascade of failures as employers attempt to address the challenges posed by COVID-19 with insufficient resources, and workers who might not be adequately trained for jobs they may have to perform under pandemic conditions.

Bearing the above in mind, Just In Time Group (JIT) took the proactive decision of getting itself complaint with Sri Lanka Standards Institution's (SLSI) SLS 1672: 2020 certification standard for COVID-19 safety management systems requirements.

JIT was awarded this certification for their excellent safety levels and methodologies in carrying out its safety measures.

The key reason for this certification for JIT is to ensure the right safety processes and precautions are in place to mitigate any risks due to COVID-19, as health and safety come into the forefront during this pandemic for all citizens and businesses.

In preparing for the SLS safety management systems requirements, the Administration and Human Resource teams of JIT took the lead in implementing COVID-19 Health and Safety procedures for the organisation, in compliance with the SLS standard, ensuring continued maintenance of the safety measures currently in place.

"This certification strengthens and reinforces our commitment to our staff and our customers by ensuring that the proper safety standards are in place and maintained at its highest levels during this time," commented, JIT Chief Operating Officer Sherene Goonetilleke.

JIT operates on a COVID-19 safety policy which details the preparedness and response efforts of the company. This policy helps the company stay abreast of guidance from Government health agencies and WHO standards, and incorporate those recommendations and resources into workplace-specific plans.

The COVID-19 Safety Management Systems Certification Scheme is well-known for certifying organisations, which implement COVID-19 Safety Management Systems according to the requirements of SLS 1672: 2020 (Sri Lanka Standard specification for COVID-19 Safety Management Systems). The purpose of the COVID-19 Safety Management System is to ensure that the stakeholders of an organisation are safeguarded from any risk or threat due to potential exposure to COVID-19, through its activities and services. The objective of implementing a COVID-19 Management System is to create an environment to ensure that any risk or threat due to COVID-19 is mitigated so that safety of the stakeholders of the organisation is ensured/guaranteed. The COVID-19 Safety Management System assures safety of the human element of an organisation, including the staff and visitors, through implementation of a risk management process, and it builds up confidence among the stakeholders in management and mitigation of the risks or threats adequately.

The benefit of SLS mandated COVID-19 safety protocols is an advantage for customers who can be assured that the right safety standards are being followed, as JIT understands the level of service they need to maintain to their customers, even during COVID-19.

"The COVID-19 pandemic was a challenge globally to meet customer needs, but, as an essential and critical service provider, our teams continued to work nonstop during COVID-19 to support the nation's critical infrastructure. This definitely tested our resilience and proactiveness, but in keeping with our promise to provide end-to-end 24/7 support with zero downtime, as a team, we worked together to adjust and deliver a consistent level of service to our customers to our best during this time," shared JIT Chief Executive Officer Chrishan Mendis.

Even now, in the post COVID-19 phase, JIT's attentiveness to the health guidelines will be adhered and maintained, until such time we as a nation are safe from the pandemic.

Founded in 1996, JIT is a veteran in the ICT Systems and Integrated Solutions sector in Sri Lanka, with over 24 years of experience. JIT provides cutting-edge integrated solutions to telecommunications, government, health, defence, and financial sectors.