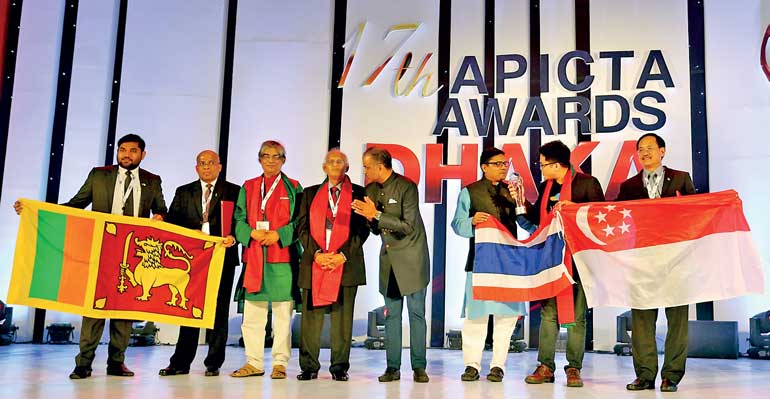 The Evinta team accepting the prestigious award. Standing from left: Dhananjaya Rajaguru and Rilwan Latiff from Evinta, President of BASIS Bangladesh Mustafa Jabbar, APICTA Chairman Dr. Dileepa De Silva, Convenor Russell T. Ahmed and the respective competitors from Thailand and Hong Kong
The Evinta Departure Control System (Evinta DCS), a product of John Keells IT, won the merit award at the recently concluded Asia Pacific ICT Alliance (APICTA) Awards, held on 10 December at the Bangabandhu International Conference Centre in Dhaka, Bangladesh.

Evinta DCS won a coveted Merit Award amidst strong competition from leading IT companies from around Asia. Evinta DCS qualified for this award after winning the overall Gold at the National Best Quality ICT Awards held in October 2017.

Representing Sri Lanka on an international stage, John Keells IT played a pivotal role in the country's placement as second overall from over 15 competing countries. The APICTA Awards 2017 had a total of 366 participants spanning 17 categories.

The winning software solution Evinta DCS is a fully Cloud-based airport system that allows an airline to seamlessly check-in and board passengers through counters, kiosks, tabs and many other options. The system requires only an internet connection to be accessible airport-wide and this sets it apart from other legacy airport systems that require expensive servers and communication links. Evinta DCS eases congestion at check-in counters and boarding gates while requiring minimal infrastructure.

Evinta DCS' graphical user interface is popular with airport staff who previously had to master a special set of commands to operate other traditional departure control systems.

Evinta DCS, which is currently rolled out at 96 airports worldwide, is targeted at airlines and ground handling agents. Evinta DCS is also able to function as the 'Back-up DCS' to any existing departure control systems.

This ensures that airports and airlines enjoy continuity in operations if there is an outage from the primary provider, allowing the airport staff to check-in passengers without any disruption or degradation of service delivery.

These awards are fondly known as the Oscars of ICT in the Asia Pacific region. The Chief Guest for the prestigious awards was ICT State Minister Zunaid Ahmed Palak.