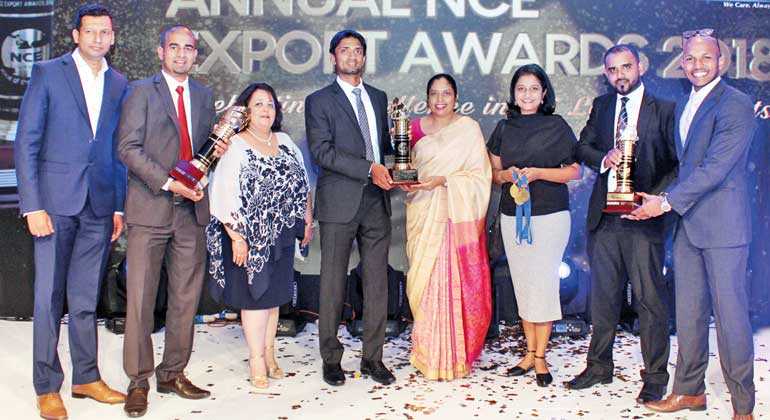 Team members of IronOne, BoardPAC, Atrad, InfoSense and Bespoke mobile solutions and services with the three Gold accolades received at the recently concluded 26th National Export Awards 2018
In recognition of its unique contribution and innovative approaches towards Sri Lankan exports, leading software solutions company IronOne Technologies Ltd. received three prestigious Gold awards at the 26th NCE Annual Export Awards 2018 concluded recently.

At this year's event, held at the Shangri-La, Ballroom, IronOne Technologies clinched a Gold award for Information & Communication Technology (ICT), Business Process Outsourcing (BPO) related Services Sector, Medium Category and also the distinction of another Gold for the 'Most Outstanding Exporter' ICT, BPO and related Services Sector.

IronOne Technologies Ltd. Founder and CEO Lakmini Wijesundera was recognised for her exceptional business acumen and awarded the Gold for the 'Best Woman Exporter of the Year'.

The annual NCE Export Awards, organised by the National Chamber of Exporters of Sri Lanka (NCE), the only chamber exclusively serving the exporter community, acknowledges the nation's outstanding export industry players and celebrates their valuable role towards the industry and national economy.

An elated BoardPAC Director/CEO Lakmini Wijesundera said, "We are delighted to have been recognised yet again at the NCE Awards as it is a great reaffirmation of our international expertise. I am also deeply honoured to have received the Best Woman Exporter of the Year in recognition of growing the company and succeeding on an international stage. This success is also testament to the levels of skill, innovation and commitment of my teams as we continually strive to push the boundaries in implementing a clear export strategy and positioning ourselves as a world leader."

The NCE Export Awards is an anticipated calendar event by the export fraternity and serves as an independent benchmark where winners are chosen by a panel of judges who are eminent professionals. This year's ceremony featured keynote speakers and industry leaders coming together to celebrate export excellence.

BoardPAC Chief Operating Officer Rajitha U. Kuruppumulle stated, "We are pleased to note our strategy of taking our innovative business units into new international markets has been recognised by such a prestigious body. Our success stems from having the expertise to understand the landscape when entering new markets."

At last year's NCE Annual Awards 2017 too, IronOne Technologies showcased its leadership, winning several impressive and noteworthy awards.

IronOne Technologies is an export-focused innovative IT products and solutions company. With its headquarters in Sri Lanka, IronOne's reach extends across the globe, with offices in USA, Malaysia, Singapore, India (New Delhi and Mumbai), South Africa and Australia (Sydney and Melbourne), supporting its exports to over 20 countries. IronOne also operates via a strategic network of international partner companies in a few selected countries.

IronOne operates four key business units, such as BoardPAC, a globally recognised paperless Board governance solution; ATRAD, a comprehensive broker solution and capital markets suite; Infosense, a provider of innovative business analytics and bespoke mobile solutions and services.

BoardPAC is a globally commended multinational that provides board meeting automation solutions to over 20,000 users across the international sphere and presence in over 20 nations. BoardPAC services a host of fortune 500 companies across the world as the preferred choice for Board meeting automation.

ATrad is IronOne's comprehensive broker solution, an innovative software product offering turnkey services to stock broker firms including online trading and a broker back office solution. Having secured market dominance with a client base composing 85% of the broker firms on the Colombo Stock Exchange, at present ATrad is making powerful strides in the Indian and African regions.

The InfoSense Banking product provides large banks, specifically their senior personnel, composed of Board Members, CEO, CFO and C level personnel, with a clear snapshot of the bank's performance. Providing a wide range of data on NPAs, advances and deposits while including overall performance bank-wise, region-wise, product line-wise and much more in its simplified and efficient design. The user-friendly interface enables effortless adoption, while the software comes in an easily accessible format created to work seamlessly with both iPad and tablet devices.

Bespoke mobile solutions and services – US Mobile provides niche mobile development services to large US branded firms.