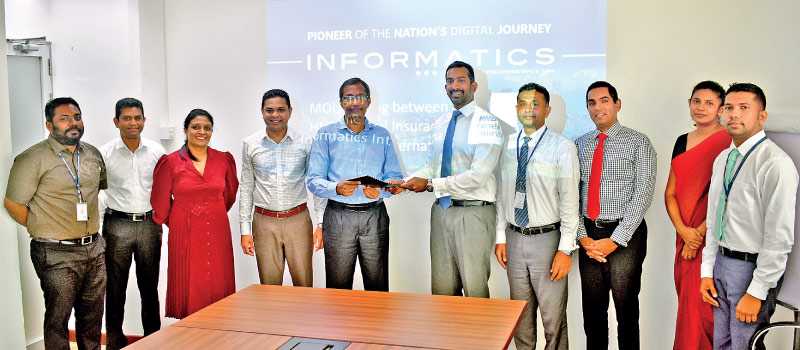 From left: HNBGI Head of Finance Vevekanandan Chitparan, IT Senior Manager Ravi Rathnayake, HNBA and HNBGI Chief Legal Officer, Board Secretary and Compliance Officer Sitari Jayasundara, HNBGI Chief Operating Officer Sithumina Jayasundara, and HNBA and HNBGI Chief Executive Officer Prasantha Fernando
---
Informatics International Ltd., a pioneer IT organisation at the forefront of Sri Lanka's digital journey together with HNB General Insurance Ltd. signed a groundbreaking MOU on Thursday, 15 October.

The MoU was signed by Informatics Group Managing Director Hiran Wickramasinghe and HNB Assurance PLC (HNBA) and HNB General Insurance Ltd. (HNBGI) CEO Prasantha Fernando. This collaboration introduces the new and improved end-to-end insurance software solution, InfoIns 2.0 developed by Informatics International Ltd., aimed at revolutionising the insurance landscape of Sri Lanka.

Informatics International Ltd. (IIL), is part of the Informatics Group of Companies founded in 1983 and has been a revolutionary change maker in the Sri Lankan IT industry for almost four decades. Its industry expertise in providing cutting-edge software and infrastructure solutions across 16 countries in over four continents range from Insurance, Banking and Enterprise, E-government and Telecommunication.

HNB General Insurance Ltd. (HNBGI) was incorporated in January, 2015 and specialises in Motor and Non-Motor Insurance Solutions, and is presently one of the fastest growing General Insurance Companies in Sri Lanka, with a network of 56 branches. The Company is ranked within the Top 100 Brands and has been awarded a 'National Insurer Financial Strength Rating' of 'A' (lka) by Fitch Ratings Lanka Ltd. and has obtained the Great Place to Work Certification, functioning as the fully owned subsidiary of HNB Assurance PLC.

As an insurer looking towards advancing in digital transformation, the InfoIns 2.0 system will be pivotal in ensuring greater business flexibility, enhancing customer service efficiency, providing greater transparency across organisational hierarchy and contributing to the overall growth objectives of the Company. After a comprehensive analysis of the current local and international industry trends, it was decided that Informatics International Limited would provide and maintain the new InfoIns 2.0 General Core Insurance solution together with its mobility suite and other value-added modules developed to best suit the organisations requirements.

The next generation InfoIns 2.0 system is currently being developed and is set to launch in 2021. Informatics prides itself in its ability to carry out successful product deployments using world proven tried and tested methodologies.

The all new end-to-end cloud ready InfoIns 2.0 solution promises to incorporate the latest technology in the market, and to include predictive analysis, business trajectory reporting and a range of mobilised modules to cater to the growing needs of its clientele.

The InfoIns suite of solutions has digitally evolved over the past two decades and catered to the needs of both local and international insurance customers, equipped with unprecedented flexibility, high scalability and a 100% project success rate.