Continuing the winning streak in both international and local competitions, the Informatics Institute of Technology (IIT) has once again emerged triumphant as the institute's students and alumni bagged several prominent accolades this year.

Isuru Sampath Kariyawasam who is a Software Engineering undergraduate at IIT won them Billionth Award for his latest innovation 'Orasi 2.0 World'. His award winning product is a highly efficient and accurate mobile device that helps visually impaired individuals to access a user-friendly mobile device and to access non-braille content. Isuru is a past pupil of D.S. Senanayake College, Colombo and is following the University of Westminster, UK, BEng (Hons) Software Engineering degree at IIT. Isuru's innovation also received accolades at the Global Student Entrepreneurship Award 2017 in which he emerged as a runner-up.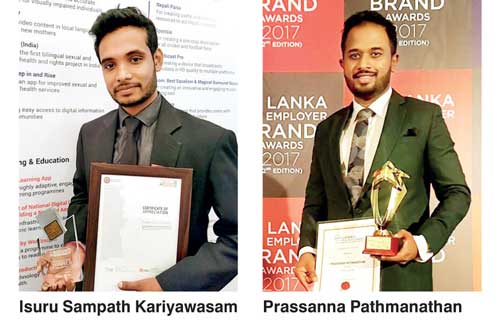 Earlier this year IIT students were adjudicated as winners at Angelhack 2017 Sri Lanka. Angelhack is a global hackathon series which was hosted in partnership with Dialog Ideamart. Athyab Ameer (Software Engineering Undergraduate), Andrew Joeshanth (Software Engineering Undergraduate), Binu Senevirathne (Software Engineering Undergraduate), Keshav Kumaresan (Software Engineering Underg-raduate), Kanashyam Yoganandasivam (Foundation Student) represented the victorious IIT team.

Meanwhile Prassanna Pathmanathan, a leading Corporate Trainer, Lecturer and Marketing Specialist, who is also a renowned graduate from IIT was awarded the 'Trainer of the Year 2017' Award at the Sri Lanka Best Employer Brand Awards and Leadership Awards 2017. Prassanna previously bagged accolades at the top 100 World Leaders in Training and Development for 2017 by the World HRD Congress, Global Training and Development Leadership Award 2016, Ten Outstanding Young Persons of Sri Lanka (TOYP) for 2016 and the award for the Most Outstanding Corporate Trainer in South Asia for 2016.

Adding to the long list of achievements this year, eight IIT students were select for Google Summer of Code 2017. The IIT students that were selected for Google Summer of Code 2017 are Savindu Dias, Thiloshan Nagarajah, Ravindu Perera, Chanaka De Silva, Supun Pramoda Wanniarachchi, Kumaranath Fernando, Achinthya Wijesekara and Kavindi Alvitigala.

"IIT has created a culture of educational excellence which fosters creativity and innovation through its programs of study that enables students to explore opportunities and discover the unknown. These facets facilitate IIT to become an award winning campus," Dean of IIT, Naomi Krishnarajah said.

"Since its inception in 1990, IIT has provided a solid foundation which has been a stepping stone for students to excel in their careers. First of all the degree programs are applied in nature as opposed to a highly theoretical program. It further has a myriad of ways within the program which facilitates the student to explore and develop diverse skills which are essential in facing the challenges in the corporate world. The program also consists of rigorous components which enable the students to work beyond their capabilities. These factors empower students to be ahead in a competitive environment," she added.

"The quality off IIT graduates speaks for itself considering its longs list of illustrious alumni who hold prominent positions in the industry both locally and abroad. The many awards won locally and internationally by IIT students and alumni is a testament to our success in providing quality British higher education in Sri Lanka," noted Krishnarajah.

IIT conducts internal postgraduate and undergraduate degrees from the University of Westminster (UOW), UK, Robert Gordon University, UK and Canterbury Christ Church University, UK. The University of Westminster degrees offered at IIT are Software Engineering, Business Information System, Business Management and Computer Science with specialization pathways in gaming and computer graphics development, mobile and web computing and multimedia computing.

IIT is an award winning campus, which has bagged many accolades for innovation in local and international competitions such as Microsoft Imagine Cup, National Best Quality Software Awards (NBQSA), APICTA, British Council-HSBC Youth Enterprise Award and e-Swabhimani.