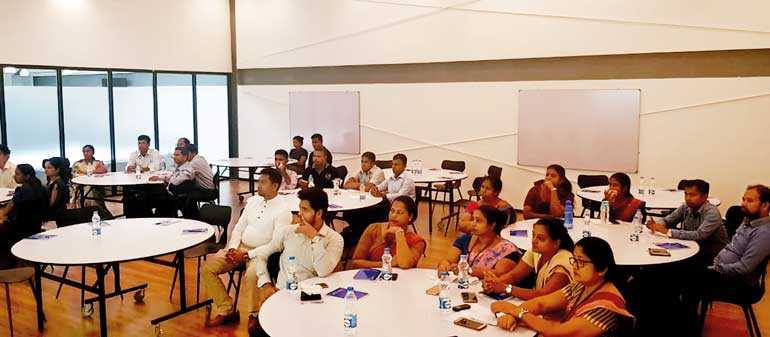 The ICT Industry Skills Council (ICTISC) and Sri Lanka Association of Software and Services Companies (SLASSCOM) join hands to introduce 'ICT Future Career Bridge' – tapping to a new source of talent for IT/BPM industry.
ICT Future Career Bridge initiative is designed to bridge this gap by creating an alternative pathway to enter the industry, other than the established 'working after a degree' model which is the most common in the IT industry. The idea is to reach capable and enthusiastic youth in NVQ courses (or directly after ALs) and provide them with a self-study path to showcase their capabilities to the industry. Once their skills are made visible, the industry is able to evaluate and on-board them, preferably through a scholarship program for higher education. Once on-boarded, the students are expected to work while reading for a degree part-time.

Skills development and capacity building are key in achieving the ICT Industry Vision 2022 of $ 5 billion in revenue, 200,000 jobs and a 1,000 startups, and essential for the growth of the industry and the country. However there is a significant shortfall of skilled workforce entering the industry currently. Today there is a yearly inflow of around 5,000 IT graduates from public and private universities. However to reach the aforesaid goals, it is predicted to require around 15,000 skilled professionals to enter the industry.

On the other hand, it is observed that the skill level of the vocational trained youth has to be uplifted to meet the workforce readiness for IT industry jobs. Understanding these gaps between the ICT Industry and the Vocational Education sector particularly, ICTISC and SLASSCOM has come together to bridge the gap.

ICT Industry Skills Council has set the Strategic Direction on five pillars namely, Infrastructure, Brand Building and Positioning (Pillar 1) Policy and Advocacy (Pillar 2) Education, Training, and ICT Professional Development (Pillar 3) ICT Careers and Networking (Pillar 4) Programs and Events (Pillar 5). The objective of the ICT Careers and Networking pillar is to make every student who are coming out from TVET system an employable by facilitating exposure to the ICT Industry as well as internships and on the job trainings. (www.futurecareersbridge.net)

'SLASSCOM Capacity Forum' particularly focuses on initiatives to expand the Sri Lankan tech and BPO talent pool to be globally competitive. The forum operates with a long-term outcome expectation where we encourage students to enter the field while improving related skills. Primary beneficiaries of this program are primary/secondary education system and school leavers. Forum objectives are to Increase quality and quantity of students entering IT/BPO industry, Make IT/BPO a top career dream for young kids, Make diverse communities inclusive in technology education, and improve the gender diversity.