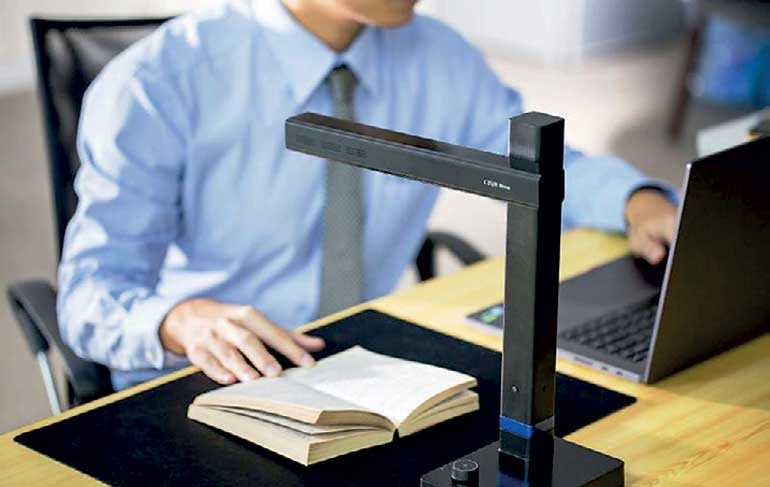 ICE Technologies is introducing a series of desktop lamp scanners that are smart, versatile and easy to use. Czur is the world's first scanner to digitise a book of 300 pages in less than 10 minutes while maintaining high quality imaging.

For decades document scanning technology has remained pretty much the same. Using a scanner to digitise a book or bound document was a time consuming and difficult task. The Czur Document scanner can scan as easily as flipping the pages of a book.

Czur Book Scanner is an atypical scanner, lacking a flatbed and a document feeder. With its scan unit residing on a beam extending well above the scanning area, it looks rather like a desktop lamp. Czur is fast and inexpensive for a book scanner, and offers the added bonus of working with a variety of other materials. The scanner can be used to digitize text and designs on materials such as fabric and ola leaves making it ideal for archiving indigenous knowledge.

Czur Shine Ultra is an extremely powerful scanner that is portable. With its light weight (1 kg) and compact size it is easily the most portable scanner on the market today. You can take it anywhere you go – home, library, office and coffee shop.

With Czur patented Curve-Flatten Technology it automatically removes curvature and saves you the time-consuming awkwardness of flattening pages by hand. Along with other features including correct position, multi-target scanning, remove fingerprint, smart paging, purify background and more, Czur Shine Ultra meets all your needs.

Topping the list is Czur Shine Pro an active 2.0 USB plug-and-play portable document scanner which is foldable and saves space on your work desk. Czur Shine Pro scans multiple documents in less than one second per page. It can be used to scan contracts, ID cards, receipts and accounting documents and much more.

With bundled user-friendly software you can edit the scanned images and convert to various formats. Advanced OCR recognises up to 186 languages and helps you layout your scanned document and enable editing. Its external foot pedal gives hands-free experience, for even faster and efficient scanning.

Czur document scanners are ideal for libraries, archives, museums and also for law firms, offices, banks, accountant firms, architects and engineers.

CZUR is distributed by ICE Technologies, a company engaged in supporting the business community in Sri Lanka in ICT solutions for over 20 years. The company boasts of a long line of established clientele who have remained loyal owing to its unstinted after sales service and support.