IBM has announced the appointment of Riza Wadood as the new Country General Manager for Sri Lanka. This leadership announcement further demonstrates IBM's commitment in the region.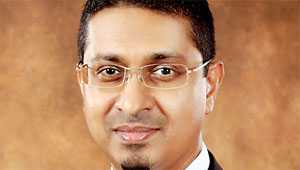 Country General Manager Riza Wadood
In his new role, Riza will be responsible for business growth and leadership of IBM in Sri Lanka. He will lead the team to support the country's strategic roadmap towards digital transformation and shape market opportunities by building alliances and partnerships. He will also be responsible for strengthening IBM's partnership with clients for a cloud- and cognitive-led digital transformation of their businesses.
Riza currently leads IBM Global Business Services (GBS) in Sri Lanka. He is a seasoned business and technology professional with over 26 years of global experience in strategic management, business consulting, client services and financial management. Under his leadership, IBM Sri Lanka has significantly improved GBS' presence in some of our large clients.

Riza will report to Karan Bajwa, Managing Director, IBM India Ltd., and Regional General Manager, IBM India/South Asia. This appointment is effective immediately.

"I am extremely excited to announce Riza Wadood as the Country Manager of IBM Sri Lanka. We have been invested in this market for over 50 years and this appointment underlines the importance that IBM places on Sri Lanka and the immense potential we are witnessing here. As businesses take a leap to digitally transform themselves, IBM is well poised to be positioned as the partner of choice for clients in this market with our unmatched portfolio and industry expertise," said IBM India Managing Director and IBM India/South Asia Regional General Manager Karan Bajwa.