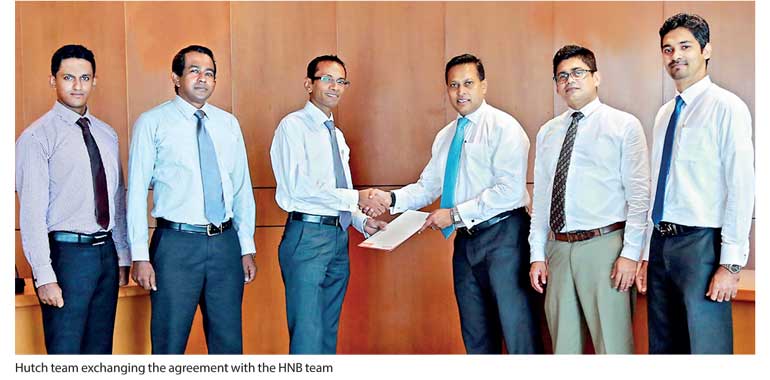 Hutch, Sri Lanka's fastest growing mobile broadband operator recently introduced 24/7 reload service through the island wide ATMs, Cash Deposit Machines (CDM) and Kiosks network of Hatton National Bank (HNB). This is another result of the company's ongoing bid to bring ultimate convenience to its customers.

Hutch users who bank with HNB can now top-up their mobile accounts from over 500 HNB ATM locations across the country. Not only HNB customers, any Hutch user can do the same using HNB CDM/Kiosks network using cash. Moreover, Hutch top-ups and bill payments can be made using HNB online banking. These self-service top-up mechanisms which are available 24 hours of the day is particularly useful when it difficult to access a retail outlet during nights or weekends.

HNB account holders can conveniently top up their Hutch mobiles at the same time they visit HNB ATMs or branches to conduct other banking activities, using their HNB ATM cards.

Commenting on this initiative, Hutch Sri Lanka Senior Manager Acquisitions and Distribution Melroy Thomas said, "Hutch has always been providing an enriching mobile experience for its customers. The introduction of reload via established bank ATMs would no doubt be appreciated by our valued customers who seek convenience to get through their busy schedules."

HNB Manager – Digital Banking Chakshika Amarawardhana said, "Mobile users who used traditional reload channels are now shifting to use self-service channels because of 24/7 availability, convenience and secured privacy. In such a situation, Hutch has taken a timely initiative to serve their customers better through the best ATM network in Sri Lanka."

HNB has been awarded the Best ATM network in Sri Lanka at the 'Technnovation Awards 2017' organised by LankaClear Ltd., the operator of Sri Lanka's national payment network, LankaPay.

Hutch is also currently in the process of collaborating with all other major banks in Sri Lanka to make this convenient top-up service available for Hutch customers who are with other banks.