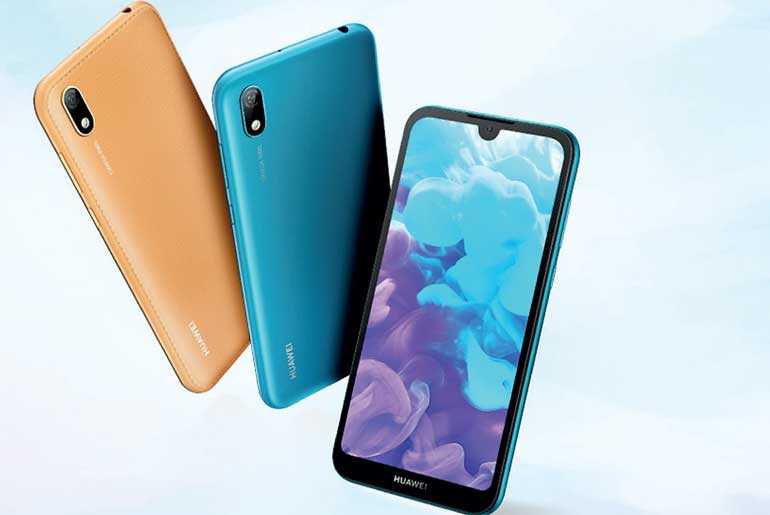 Huawei Y5 2019
Revolutionising the smartphone industry, Huawei introduced the innovative and alluring Y5 2019 to the Sri Lankan market recently. The bezel-less wonder of a smartphone comes with an appealing range of properties that make the Y5 2019 a truly expressive and unique entry level smartphone for the youth of today. The company announced that the new introduction is gaining much popularity amongst local consumer segments.

Huawei Y5 2019 consists of the EMUI 9.0, a friendly, striking upgraded user interface along with a 12nm chipset which greatly improves performance while reducing power consumption. The EMUI 9.0 allows intelligent memory optimisation, which automatically clears out system cache, junk files empty folders and invalid log on a daily basis. It also features the Simple Mode, with options to take the user's physical conditions and habits into account, which consequently display bigger icons and simplified navigation, providing easier operation.

One of the most appealing factors about the Y5 2019 is the bezel-less Dewdrop display that brings a new type of human-machine interaction while also making navigation easier. The 5.71 inch display comes in a ratio of 19:9, allowing a high screen-to-body ratio, as well as a tiny dewdrop-shaped notch. Consequently, this provides convenient one-handed operation, owing to the small body size that enables comfortable handling. The device is optimised with features that enable display clarity, even in sunlight, as well as gesture navigation.

This appeal that the Y5 2019 brings is extended by its leather like back cover, which is extremely durable as well as the perfect finishing touch for users ideally looking for a smartphone with expectations of high-technology as well as fashion aesthetics that are up-to-date with the current trends.

Huawei presents its customers with remarkable storage capacities as the Y5 2019 comes with a 32GB ROM. As storage space is extremely important to smartphone users, the Huawei Y5 2019 adopts Huawei's EROFS in-depth memory optimisation technology which effectively compresses system software, allowing users to enjoy more storage space on the phone. The Y5 2019 also comes with a three-slot card holder, providing the user with up to 512GB of additional expanded space while still using two SIM cards.

The Y5 2019 also comes equipped with a powerful 3,020mAh battery, which has tested to survive the day with a one-time charge. Different solutions have been crafted to reduce power consumption, allocate resources more effectively between software and hardware, and automatically repair abnormalities, thereby reducing system load and optimising power efficiency by 20%.

The New Huawei Y5 2019 is currently available in three colours – Midnight Black, Amber Brown, and Sapphire Blue – at all Singer outlets islandwide for an introductory price of Rs. 19,999.