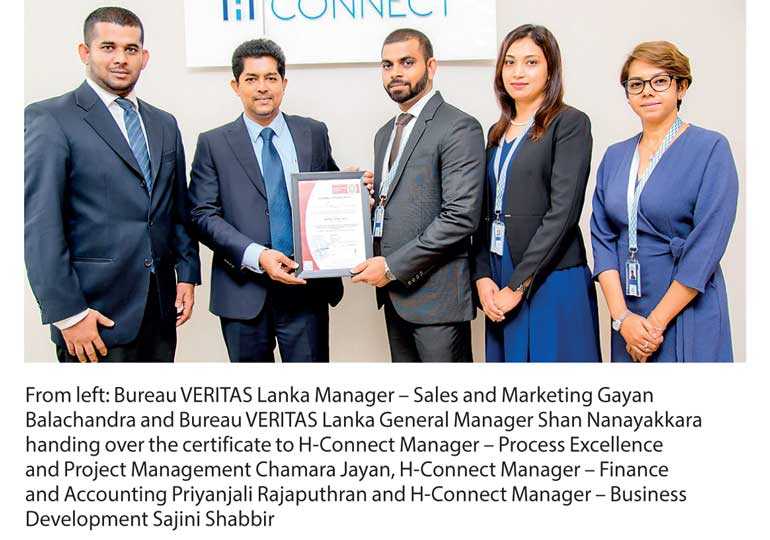 H-Connect Ltd., a leading provider of global Business Process Management (BPM) services, completed the ISO/IEC 27001:2013 recertification, reflecting its compliance with ISO/IEC 27000 family of standards that ensures security of information assets such as financial information, intellectual property, employee details or information entrusted to a company by third parties.

The certificate was handed over to key H-Connect senior management staff by officials from Bureau Veritas Certification Holdings SAS – UK.

"As a leading Business Process Management company, we believe that investing in resources to achieve ISO/IEC is important to our business practices. We are ensuring that H-Connect is a world-class organization that can match the highest international standards across all our operations, so that we continue making a mark in the international arena," noted H-Connect Director Akshay Hirdaramani. H-Connect Ltd. is a Business Process Management (BPM) company operating out of Sri Lanka and is a fully owned subsidiary of Hirdaramani Group. Established in 2012 as a shared service arm for the Hirdaramani Group, H-Connect has grown beyond its mandate to deliver the full continuum of business process management services, across all aspects of the Hirdaramani Groups business including Apparel, Leisure, Power, Retail, and Information Technology.

Today, it is acknowledged as a rapidly growing business process management Outsourcing entity operating out of Sri Lanka and is reputed for its wide client base spanning many countries.

H-Connect is renowned for its expertise in multiple accounting systems and process management consultancy backed by a qualified resource pool.

H-Connect now employs 215 employees and is ISO 27001 certified.