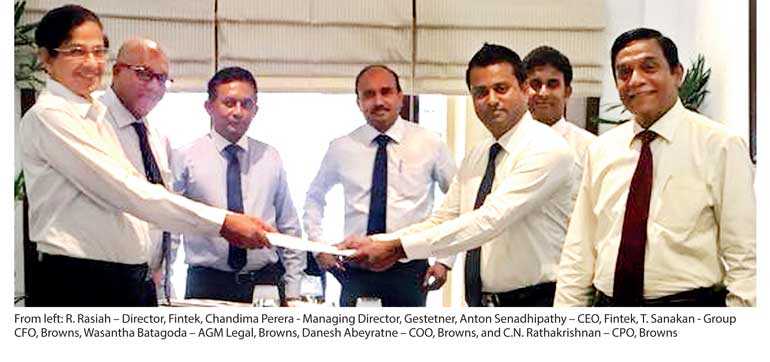 Fintek Managed Solutions Ltd. has announced its acquisition of the Integrated Business Solutions (IBS) unit of Brown and Company PLC. With this acquisition, Fintek consolidates its role as the authorised distributor of Sharp Office Automation products and solutions in Sri Lanka.

In a previous release detailing its role as the distributor for Sharp products, Fintek announced that its product line-up would include Sharp branded colour and monochrome photocopy machines, multimedia projectors, interactive white boards, cash registers and software solutions. With the signing of this agreement with Brown and Company PLC, Fintek will add more products to its existing range of branded Sharp products and solutions. These include Giesecke and Devrient cash processing machines, Scancoin cash sorting and counting machines, Vivitek multimedia projectors, Pitney Bowes franking machines, and the outsourcing of Doculine copiers and printers.

With such a versatile line-up of products complementing the existing range, Fintek is able to offer a wide variety of options for businesses seeking secure, high-quality and environmentally friendly document solutions. "We will offer great customer relationships and service as always," says Fintek CEO Anton Senadhipathy, an industry veteran known for his experience and leadership both locally and internationally. Senadhipathy is backed by a Board of Directors comprising of reputed professionals from a diverse array of fields, including management, finance, marketing and legal affairs.

Fintek will continue to operate from the same premises occupied by the former IBS of Brown and Co. PLC at St. Benedict's Mawatha, Colombo 13. The company is a fully owned subsidiary of Gestetner Ceylon PLC, a leading total document solutions provider in Sri Lanka. It complements Gestetner's role as a leader in Sri Lanka's office automation space, and plans to add other business lines to its portfolio in the future. At present, the company is staffed by a highly qualified team of professionals trained overseas to help customers identify the best Sharp products to suit their needs.