Bringing together some of the IT industry's key professionals and principals, the E-Guardian Partner Conference was held at the Hotel Turyaa Kalutara, recently.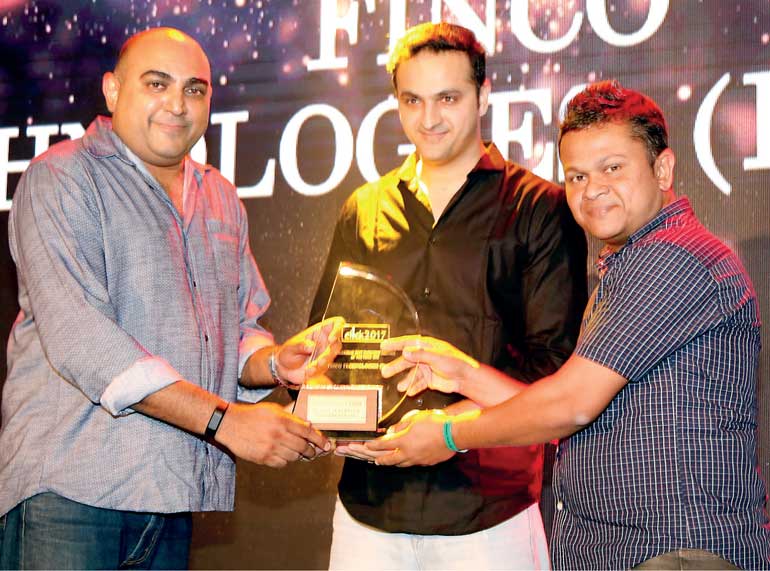 FINCO Technologies receiving the award as the best emerging partner 2016 at the E-guardian Partner Conference
The two-day event, titled 'Click 2017', was a platform provided to principles to gain access to a large number of key decision makers and other important heads of major systems integrators in the industry , to meet and discuss on topics of importance affecting the industry at present.

At this event, key partners of E-Guardian were also awarded and appreciated.

Bagging one of the foremost awards was FINCO Technologies who were awarded the best emerging partner 2016. With only seven partners gaining the ability to compete for this prestigious award, FINCO technologies beat some of the biggest players in the market to win this award.

This accolade was due to several key factors, amongst them being for FINCO Technologies technical competencies and impressive sales figures as well as being the only partner in Sri Lanka to hold the Silver Partnership for both core security and enterprise security for the leading security brand, Symantec. Additionally, FINCO Technologies is also a Network Security Expert (NSE 4) Certified Partner, which a high level certification given to an elite group of innovative, industry-leading companies in recognition of their network security skills and experience.

Accepting the award and commenting on this achievement FINCO Technologies General Manager Ruwan Bandara stated, "It is an honour to be recognised for our quality and capabilities by a global leader in the security industry. I am incredibly proud of my team. We have always strived to be the best at what we do, but to have it confirmed by being elected amongst the leading players in the market is a wonderful feeling. E- Guardians singular focus on security solutions has helped us emerge as a leading partner to the industry today and I thank E-Guardian for this award and acknowledge the strong partnership that has developed between us."

Having aptly showcased and demonstrated their expertise and competency in delivering much needed Enterprise security solutions to Sri Lankan businesses, FINCO Technologies now looks forward to further impacting the industry through their knowledgeable team of Security professionals, who will help protect local businesses from being affected by the host of threats revolving in the market today.