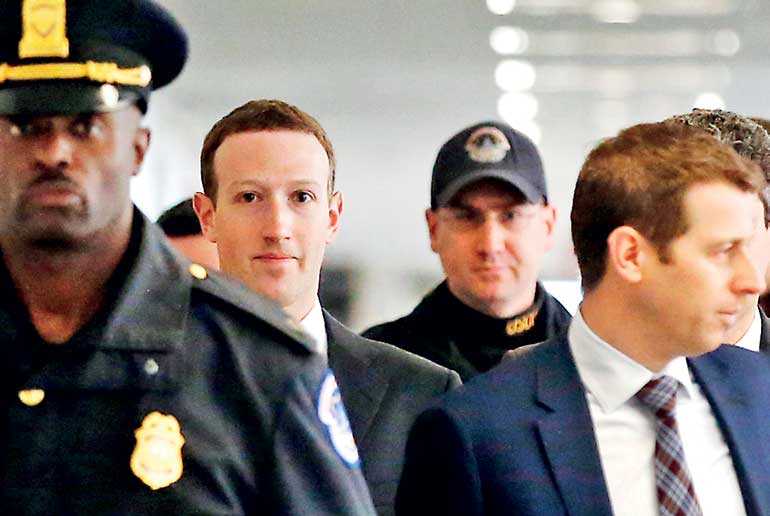 Washington (Reuters): Facebook Inc. Chief Executive Mark Zuckerberg told Congress yesterday (9 April) that the social media network did not do enough to prevent itself and its members' data being misused over the past few years, and offered an apology to lawmakers.

His conciliatory tone in written testimony precedes two days of Congressional hearings, where Zuckerberg is set to answer questions about Facebook user data being improperly appropriated by a political consultancy, and the role the network played in the US 2016 election.

"It's clear now that we didn't do enough to prevent these tools from being used for harm," he said in remarks released by the US House Energy and Commerce Committee yesterday. "That goes for fake news, foreign interference in elections, and hate speech, as well as developers and data privacy."

Zuckerberg was meeting with lawmakers on Capitol Hill yesterday, ahead of his scheduled appearance before two Congressional committees today (10 April) and tomorrow (11 April).

Top of the agenda will be Facebook's admission that the personal information of up to 87 million users, mostly in the United States, may have been improperly shared with political consultancy Cambridge Analytica.

"We didn't take a broad enough view of our responsibility, and that was a big mistake," his testimony continued. "It was my mistake, and I'm sorry. I started Facebook, I run it, and I'm responsible for what happens here." Facebook, which has 2.1 billion monthly active users worldwide, said on Sunday (8 April) it planned to tell users whose data may have been shared with Cambridge Analytica yesterday. The company's data practices are under investigation by the US Federal Trade Commission.

London-based Cambridge Analytica, which counts US President Donald Trump's 2016 campaign among its past clients, has disputed Facebook's estimate of the number of affected users.

Zuckerberg also said that Facebook's major investments in security "will significantly impact our profitability going forward."

Facebook has about 15,000 people working on security and content review, rising to more than 20,000 by the end of 2018, Zuckerberg's testimony said. "Protecting our community is more important than maximising our profits," he said.

As with other Silicon Valley companies, Facebook has been resistant to new laws governing its business, but on Friday (6 April) it backed proposed legislation requiring social media sites to disclose the identities of buyers of online political campaign ads and introduced a new verification process for people buying "issue" ads, which do not endorse any candidate but have been used to exploit divisive subjects such as gun laws or police shootings.

The steps are designed to deter online information warfare and election meddling that US authorities have accused Russia of pursuing, Zuckerberg said on Friday. Moscow has denied the allegations.

Zuckerberg's testimony said the company was "too slow to spot and respond to Russian interference, and we're working hard to get better."

He vowed to make improvements, adding it would take time, but said he was "committed to getting it right."

A Facebook official confirmed that the company had hired a team from the law firm WilmerHale and outside consultants to help prepare Zuckerberg for his testimony and how lawmakers may question him.