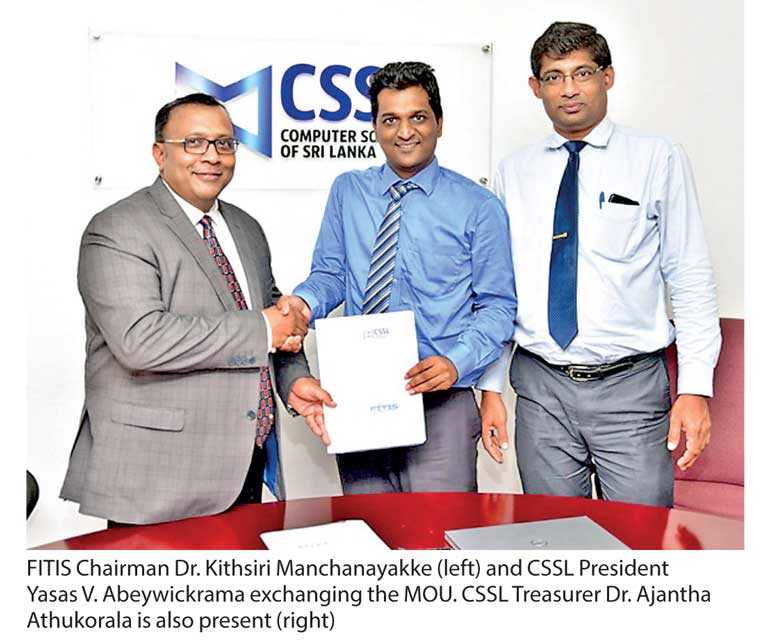 Federation of Information Technology Industry Sri Lanka (FITIS) has come forward to partner with National IT Conference-2018 (NITC-2018) organised by Computer Society of Sri Lanka (CSSL). The MOU was signed by CSSL President Yasas V. Abeywickrama and FITIS Chairman Dr. Kithsiri Manchanayakke.

The 36th National Information Technology Conference – 2018 themed 'It changes everything' organised by Computer Society of Sri Lanka (CSSL) will be held from 2-4 October at Shangri-La Hotel, Colombo.

FITIS is the apex ICT industry association in Sri Lanka. Established in 1994, FITIS acts as the nucleus of five industry associations of the ICT Industry. With a cumulative membership of over 200 active business firms in ICT industry FITIS is committed to foster a healthy growth of the industry focusing on resolving policy issues, lobbying with state authorities, co-operation and alignment with regional and global industry bodies and promoting harmony and innovations within the ICT industry.

The Computer Society of Sri Lanka (CSSL) which was established in 1976 is the apex body representing Information and Communications Technology (ICT) professionals in Sri Lanka. It promotes professionalism among those engaged in the field of ICT, and maintains the highest professional standards among the Information and Communication Technology fraternity. The CSSL is a member of the South East Asia Regional Computer Confederation (SEARCC) and International Federation for Information Processing (IFIP). Locally, it is a member of Organization for Professional Associations (OPA).