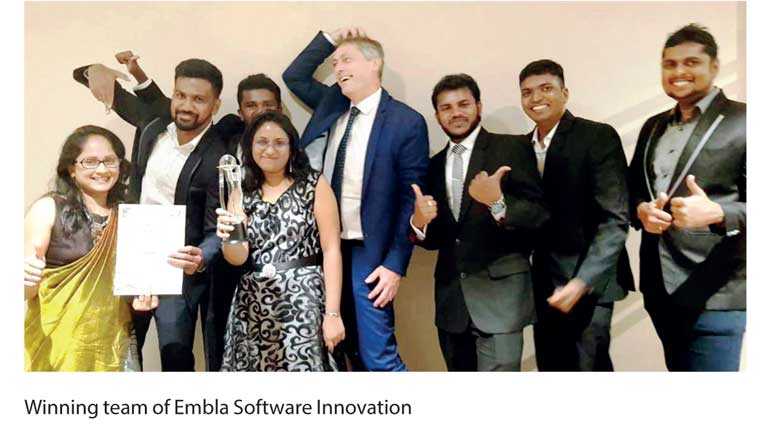 Embla Software Innovation Ltd., the 'Extended Office' development company in Sri Lanka, bagged once again an award in the Sustainability and Environment Technology category at the National Best Quality ICT Awards 2018 organised by BCS The Chartered Institute for IT.

Kraft24 is a mobile application developed for a Norwegian customer, which is focusing on analysing electrical meter readings for saving electricity as well as predicting your future usage and how to save electricity. For three consecutive years Embla has won the sustainability and environment technology category in line with their overall strategy in building solutions that are contributing to the society as a whole.

In October 2018, Embla attended the ICT investment roundtable organised by IKT Norge, SLASSCOM and the Sri Lankan embassy with the Sri Lankan Prime Minister in Oslo. The company chair leader, Stein updated the Prime Minister and his team how he started his first IT-company 22 years ago and the challenges that he and his company are facing in Colombo today. Stein believe that Norwegian software companies that develop their own Intellectual Property (software) have a lot to gain from using the quality rewarded Extended Office method of working with distributed teams between Norway and Sri Lanka.

Embla Software Innovation Ltd. is an award winning total transparent software product outsourcing company with recent win at SLASSCOM awards for 'Best Innovation in Internal Process'. Also in the last six years Embla has been participating and winning in National Best Quality ICT Awards, demonstrates the level of quality produced by Sri Lankan outsourcing team and the continuous commitment towards excellence. The company is proud to be part of the Island of Ingenuity and to build the country from within by reaching out and innovate.