Dialog Axiata PLC, Sri Lanka's premier connectivity provider and the first and only network to offer Voice over Wi-Fi (VoWiFi or WiFi Calling) and VoLTE (Voice over LTE) service in Sri Lanka, which allows users to make or receive calls using WiFi or 4G LTE networks, launched the all-new range of VoWiFi capable iPhones, enabling Dialog customers to enjoy the all-new features of the iPhone 11 series and have seamless high-quality connectivity for both voice and data.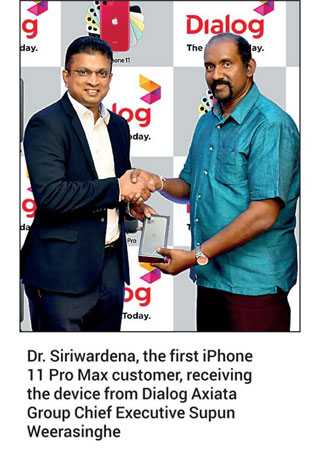 The latest iPhone 11, 11 Pro, and 11 Pro Max were launched at an exclusive event on 1 November at the Dialog Iconic, Sri Lanka's premier tech flagship store, for their Club Vision and pre-order customers. The pre-order customers got to take home their device, with 11 lucky customers walking away with free Air Pods.

Customers who purchase the iPhone 11, 11 Pro, and 11 Pro Max through Dialog will receive exclusive offers including, free one-time Screen Replacement Insurance Cover, 10 GB Data per month for three months, along with the ability to purchase the latest iPhone range on monthly instalment plans at 0% interest – up to 40 months, available with leading credit cards. Additionally, Club Vision customers can avail their exclusive discounts when purchasing the latest iPhone range.

Dialog's offering of 4G VoLTE, VoWiFi and eSIM capabilities are the perfect accompaniments to the latest iPhone range to deliver superior voice-call and video-call quality. The latest iPhone 11, 11 Pro and 11 Pro Max with its impressive and cutting-edge design, cameras, display, WiFi Calling ability, and performance can be purchased at selected Dialog Experience Centres or via www.dialog.lk.