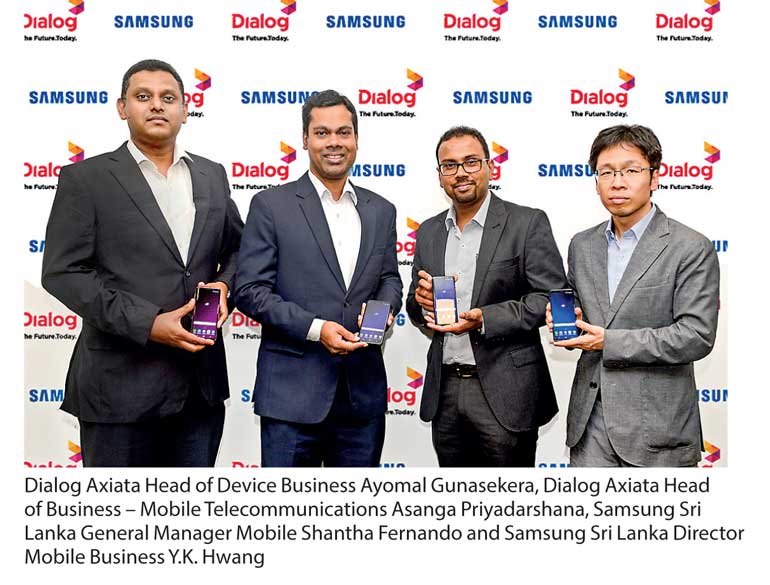 Dialog Axiata PLC, Sri Lanka's premier connectivity provider and the exclusive partner network for Samsung in Sri Lanka, announced the launch of the Samsung Galaxy S9 and S9 Plus along with pre-order facilities. As the only network that supports 4G VoLTE (Voice over Long-Term Evolution), Dialog offers the ultimate user experience for customers through network leadership.

Available in Midnight Black, Coral Blue or Lilac Purple, both the S9 and S9 Plus come with an Octa-core, 10 nm processor, wireless charging functionalities, iris and fingerprint scanning capabilities and boast a groundbreaking new adjustable-aperture camera that automatically adapts to bright light, as well as super-low light, resulting in exceptional picture quality. The new dual-aperture camera also includes super slow-mo and enhanced noise reduction on images, making it the perfect choice for photography aficionados. Unlike the galaxy S8, the S9 and S9 Plus introduce Android users to Augmented Reality (AR) Emojis. Users may create an animated version of themselves and communicate with an emoji that follows their movements and expressions. The Samsung S9 also includes a 5.8" Quad HD display, an 8MP front camera and super speed dual pixel 12MP rear facing camera, 4GB RAM and 3000 mAh battery for extended usage. For heavier users that require a device that packs a bigger punch, the S9 Plus includes a 6.2" Quad HD display, an 8MP front camera, a super speed dual pixel 12MP rear facing camera and an additional 12MP secondary camera. Additionally, it comes with an expanded 6GB RAM and 3500 mAh battery.

The 64GB Samsung Galaxy S9 is priced at Rs. 142,900 while the 64GB Samsung Galaxy S9 Plus is priced at Rs. 160,900 and the 128GB Samsung Galaxy S9 Plus is priced at Rs. 177,190. Further, customers who opt to pre-order their device will receive 50% off on a Samsung Gear Sport, retailing at Rs. 56,590, a free cover, free tempered glass and a free Liv-it 2 smartband. Additionally, those who pre-order the 64GB S9 and S9 Plus are entitled to an additional 64GB memory card. Pre-orders can be made by visiting http://sm.dialog.lk/s9with the launch date set for 23 March.