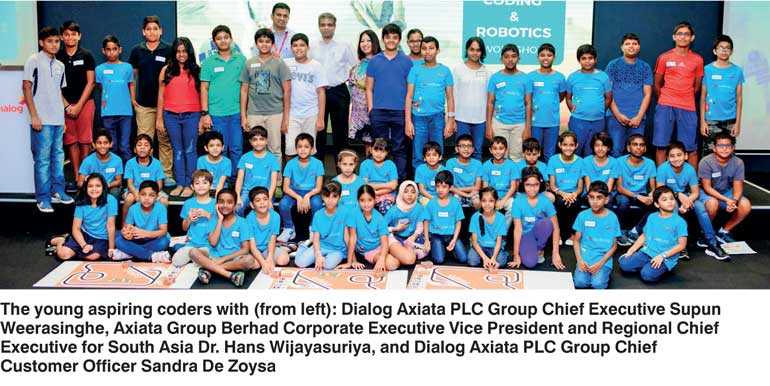 Dialog Axiata PLC, Sri Lanka's premier connectivity provider, hosted a coding and robotics workshop for children of Dialog Club Vision customers at the Dialog Head Office Auditorium.

An initiative by the Sri Lanka Association of Software and Service Companies (SLASSCOM), in collaboration with Dialog, joined hands to carry out this novel initiative, a workshop on coding and robotics for kids. The workshop not only allowed children to gain an understanding on basic IT skills at an early age, but also encouraged the next generation to take up IT as a profession in the future.

The workshop drew close to 50 children between the ages of 7-12, who experienced the thrill of developing games with simulations to learn coding and robotics skills with the support of Tec Sri Lanka. The young aspiring coders were divided into several teams and given an opportunity to code a Star Wars game, in which winning teams were rewarded with Dialog Virtual Reality (VR) sets. Furthering their digital native skills, the teams were also exposed to programming of robots.

Dialog Axiata Group Chief Executive Supun Weerasinghe and Axiata Group Berhad Corporate Executive Vice President and Regional Chief Executive for South Asia Dr. Hans Wijayasuriya addressed the gathering and further re-iterated the importance of coding and Dialog's role in spearheading digital transformation amongst the next generation of makers and movers.

Dialog Axiata PLC Group Chief Customer Officer Sandra De Zoysa said, "The workshop set aside a whole day to teach children on how to code and help them understand the basic mechanics of coding, with the goal of educating, enabling and ensuring children are equipped with tools and skills that will be essential for their education. Sri Lanka has a global reputation in best-in-class software development and through this initiative we hope to truly equip a generation that will experience the future, today."

She added "We believe that it is important to expose children to coding as part of their early education so that they comprehend its vast potential and take a keen interest in technology right from their formative years."

Dialog with the support of SLASSCOM and its member companies aim to empower and encourage young children to develop fundamentals in computer science through a series of workshops and simulations focused across science, technology, engineering and mathematics (STEM), whilst educating children in an interdisciplinary and applied approach. This initiative is the first of many workshops in Colombo and is set to roll out across the island to include key regions such as Kandy, Galle and Jaffna.