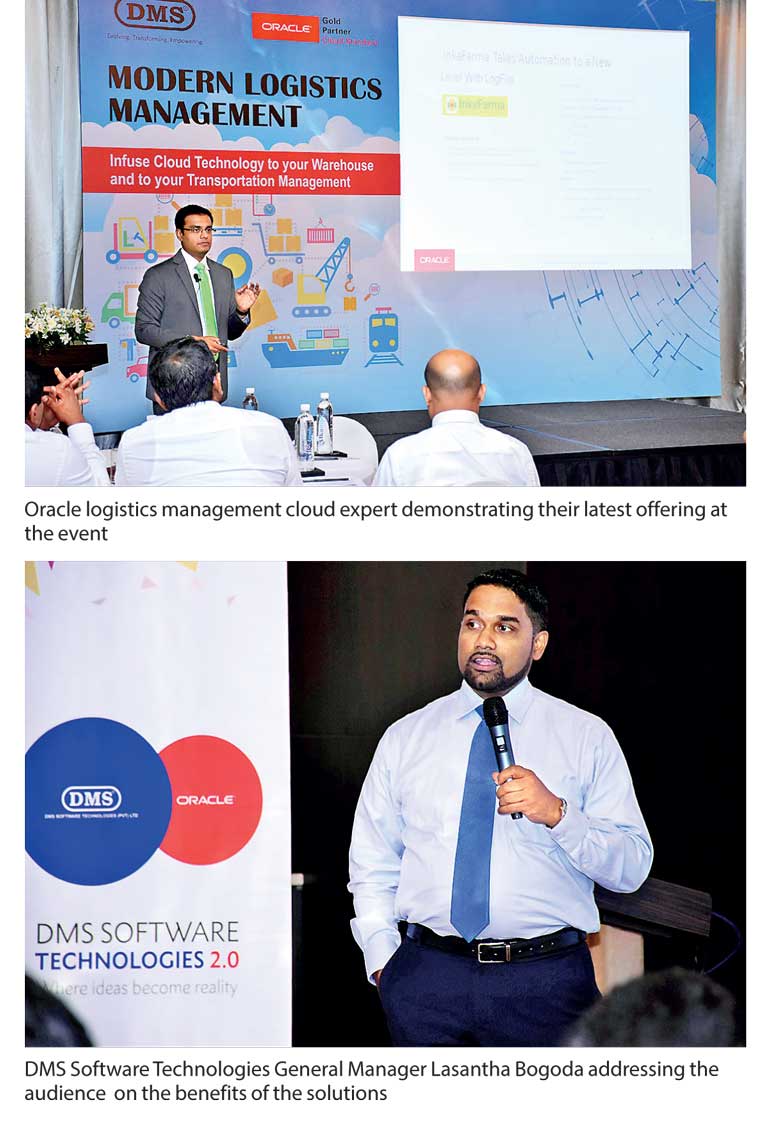 DMS Software Technologies and Oracle with the intention of meeting today's market needs, recently hosted experts from the supply chain and logistics sector at the Movenpick Hotel on the event themed 'Modern Logistics Management'.

The key focus of the event was on Oracle's industry leading Cloud Solutions on Warehouse Management, Transportation Management and IoT (Internet of Things) enabled smart applications. The growing demand and importance of supply chain on today's businesses and their impact, as well as the challenges faced in its operation was discussed by the panel of experts. The consensus was that organisations who want to achieve sustainability over a long period will be wise to invest in a dynamic and advanced supply chain management solution. The many potential saving opportunities which become available once an effective solution is integrated into a company or network of companies was also highlighted.

Oracle outlined the cloud based Transportation Management Solutions that provide robust capabilities for transportation planning and execution which supports both shippers and logistics service providers. The solution helps manage, track, and streamline transportation activity across global supply chains and allows to plan and execute domestic and international shipments all in one system. An insight was also given into Oracle's Warehouse Management Cloud Solution that helps improve inventory and shipment accuracy, to gain total inventory visibility, from the distribution centre to the store shelf.

DMS Software Technologies General Manager Lasantha Bogoda stated, "Companies that neglect the important aspect of deploying a proper supply chain solution often pay the price with cost, quality, lead time and customer retention. Progressive companies understand that managing the supply chains improve lead times, decrease costs of warehousing and inventory control, and increase the overall control against unknown variables. With the tools and techniques that a supply chain solution offers, you'll have the ability to properly diagnose problems, work around disruptions and determine how to efficiently move your products. In other words, when your product delivery is designed for efficiency and speed and correctly proportioned through analytics, you move the most amount of product in the shortest amount of time by spending the least amount of money. It's a win-win situation for both the company and the customer and this is what we aim to deliver to our local businesses in partnership with Oracle,"

Built from the ground up for the cloud to give the visibility, insights, and capabilities needed to create an intelligent supply chain for organisations, DMS along with Oracle is now geared to power Sri Lankan businesses to address and overcome their business challenges and transform their business operations, through delivering the best-in-class technology and a revolutionary new approach of a complete supply chain solution that includes inventory, cost management, and an overarching supply chain planning capability with embedded analytics and embedded integration capabilities.

Managing all transportation activity throughout an organisations global supply chain, these solutions combine ease of use with industry-leading capabilities that enable to reduce costs, optimise service levels, and automate processes so that an organisation can run logistics operations more efficiently. With no hardware to install and no software to maintain, these solutions are quick to deploy and easy to use.