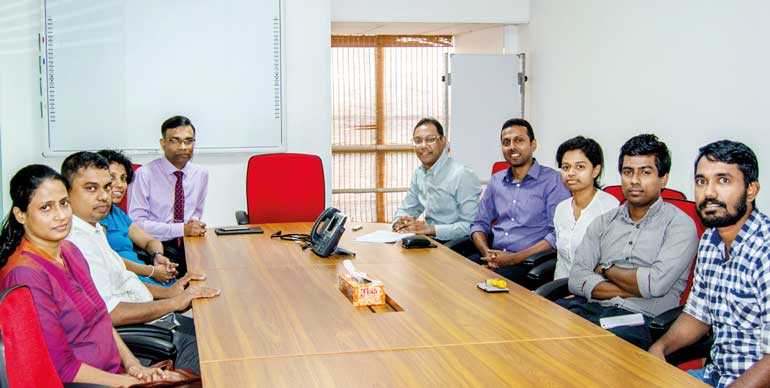 UCSC Director Prof. K.P. Hewagamage (top left) and Creative Software Director Sushena Ranatunga (top right) with teams from both entities
---
In a historical step taken to strengthen industry-university ties and to assist in producing graduates better suited for today's competitive market, Creative Software entered into a Memorandum of Understanding with the University of Colombo School of Computing (UCSC) on 17 December 2018, for setting up an in-house IT R&D Centre for undergraduates.
Under this initiative Creative Software will provide research opportunities for students based on actual industry requirements identified by Creative or the students themselves. For successful projects that are also deemed to have commercial potential, Creative will provide additional financial and marketing support to the aspiring entrepreneurs. This is an important step taken to assist emerging entrepreneurs and build more successful Sri Lankan software companies.

"As a forerunner in Sri Lankan ICT industry, this is a goal we are working tirelessly towards. With internal resources with research and development expertise, keen on making an impact on today's youth and to contribute to the economy of the country, Creative is more than happy to assist and invest in this enterprise. We hope to see many young new talents contributing to the Sri Lankan economy in the future," Creative Software Director Sushena Ranatunga said.

Creative Software is a pioneer and leader in Sri Lanka's software industry, specialising in building and managing dedicated teams of software engineers, as well as providing project-based software development and maintenance services. When building internationally competitive software for the market leading clients, Creative must always have the best of the human resources our universities can provide. The IT industry also requires a fresh outlook in to research and innovations front. As such, in addition to sponsorships and related collaborative work with various universities, a step forward was taken by Creative Software to fulfil this much needed venture for the future generation of Sri Lanka.

University of Colombo School of Computing (UCSC) was established as the first centre of higher learning of computing in Sri Lanka. The vision of the UCSC is to be a centre of international repute in training in Information and Communication Technologies (ICT). Major goal of the UCSC includes preparing students for careers in Information and Communication Technology as Software Developers, Systems Analysts, Network Administrators, Database Administrators, Web Developers, IT Managers, IT Strategic Planners and IT Policy Makers. UCSC is keen on using this valuable opportunity to share knowledge and help build better entrepreneurs and professionals for the betterment of the country.