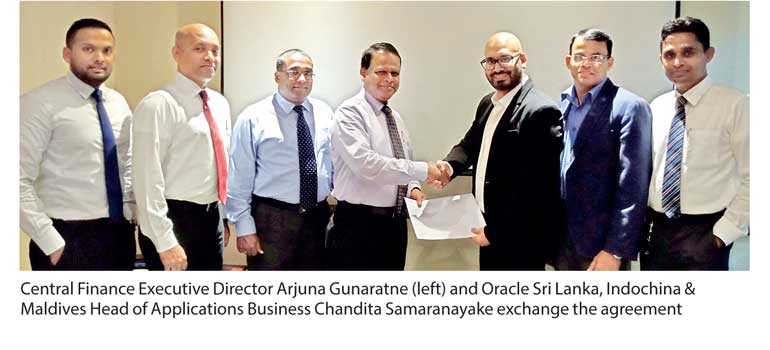 Central Finance Company PLC (Central Finance), a leading financial solutions provider in Sri Lanka, has selected Oracle CX Cloud Suite to effectively engage its customers across multiple touchpoints.

Central Finance will be able to cater to customer queries and interact across various social platforms. The company will also be able to provide consistent customer experiences while offering targeted product aimed specifically at the customers' needs thus increasing brand advocacy and market share.

As a company whose success is driven by people, Central Finance wants to continue to uphold the values of innovation instilled by its founder by consistently delivering financial products designed to fit the rising needs of customers.

The management wants to be able to listen to the social conversations in the finance and leasing areas, provide better customer interaction by leveraging multiple channels and improve collaboration amongst various departments. The company also wants to have improved visibility on customer information to provide additional offering insights based on customer needs.

However, various applications and homegrown CRM solutions used previously by Central Finance hampered integration and made the software upgrade process cumbersome. The need for simplification and adoption of common business processes across the organisation to ensure agility and responsiveness amid rapid growth was also a challenge. The cost of deploying new software was high as the company would have to perform extensive testing for each change to ensure customisation works as expected.

"Our mission is to be the best service provider in our industry, conducting business with responsibility, using our expertise in helping customers grow and prosper whilst creating lasting value for our shareholders," said Central Finance Executive Director Arjuna Gunaratne.

"With Oracle CX Suite we will be able to provide better customer services and extend our market reach to increase market share. We are hopeful that we will be able to leverage industry best practices with the help of Oracle and to achieve our goals."

Oracle CX Cloud Suite, including sales, service, marketing and social, will provide Central Finance with a single integrated platform to improve customer interactions using multiple touch points. The application will provide consistent information to the sales staff, ensuring a defined standard operating procedure (SOP) to take new customers on-board.

The management of Central Finance will have a 360-degree view of opportunities and cross-departmental collaboration. Oracle CX Suite will further provide native support for mobile, embedded analytics and social collaboration aligned to give the staff access anytime and anywhere, while helping in real-time decision-making.

"Organisations seeking competitive advantage rely on Oracle to help them effectively engage customers across physical and digital channels to dramatically improve customer retention, up-sell, and brand advocacy," said Oracle Sri Lanka, Indochina and Maldives Head of Applications Business Chandita Samaranayake.

"We are confident that Oracle CX Cloud Suite can enable Central Finance to know more about their customer needs and offer customised products and services to increase its market share, while delivering great customer experiences."

Central Finance can take social capabilities a step further since Oracle Social is integrated with key CX applications, including marketing, service, sales and commerce. Oracle Social provides the industry's first unified social platform that delivers a virtually seamless experience across listening, engagement, content creation, community management, and paid media, analyses a company's social media efforts, help organisations achieve their business objectives and develop stronger, more loyal customers.