Council members seated from left: Heshan Karunarathne - CSSL Assistant Secretary and General Manager of The Projects Corporation Ltd; Dr. Ajantha Athukorale – CSSL Secretary and Deputy Director of the University of Colombo School of Computing; Prabath S. Wickramaratne – CSSL President; Damith Hettihewa - CSSL Vice President and Managing Director of Nimbus Cloud Lanka Ltd; and Dr. Parakum Pathirana - CSSL Treasurer and Head of Information Security and Compliance of the LOLC Group

Standing from left: S. Shageevan - CSSL Assistant Treasurer and Chief Information Officer of Esoft Metro Campus; Heminda Jayaweera - CSSL Student Counsellor and Chief Operating Officer of the Sri Lanka Institute of Nanotechnology; Commodore Janaka Gunaseela - CSSL Publication Secretary and Dean of the Faculty of Computing of the General Sir John Kotelawala University Sri Lanka; Indika De Zoysa – CSSL member and Vice President of Public and Government Affairs of the Enterprise Business Group, Huawei Technologies; Prof. Koliya Pulasinghe – CSSL council member and member of the Faculty of Computing of the Sri Lanka Institute of Information Technology; Rasantha Hettithanthrige – CSSL council member and Senior General Manager, Engineering and Operations of Mobitel Ltd. and Prof. Priyantha Kumarawadu – CSSL member and Dean of the School of Computing, Asia Pacific Institute of Information Technology
---
The Annual General Meeting of the Computer Society of Sri Lanka (CSSL) was held recently and the new Executive Council for 2020 was duly elected.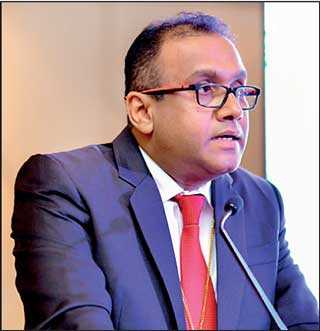 President Prabath

S. Wickramaratne




Prabath S. Wickramaratne was re-elected as the President, while Damith Hettihewa was re-elected as the Vice President. The other members of the Executive Council are Secretary Dr. Ajantha Athukorale, Treasurer Dr. Parakum Pathirana, Assistant Secretary Heshan Karunarathne, Assistant Treasurer S. Shageevan, Student Counsellor Heminda Jayaweera, Publication Secretary Commodore Janaka Gunaseela and council members Prof. Koliya Pulasinghe, Rasantha Hettithanthrige, Indika De Zoysa and Prof. Priyantha Kumarawadu.

Wickramaratne, a well-known industry activist, will continue to lead the Executive Council of CSSL for another term. He has been with the CSSL Executive Council over the past seven years prior to being elected as its President in 2019. He is currently attached to Deutsche Bank AG, Sri Lanka as its Vice President, Head of Operations and Head of Information Technology. In addition, he is a visiting lecturer at a number of leading government and private universities in Sri Lanka and a member of the Steering Committee of the Sri Lanka Financial Sector Computer Security Incident Response Team (FinCSIRT).

The President thanked all outgoing Executive Committee members, especially Immediate Past President Yasas V. Abeywickrama, for his successful two-year term as President, during which he guided the country's apex ICT professionals' body to new heights through innovative strategies. The President also presented the body's annual report, which articulated a number of successful projects which were either implemented or flagged off during 2019 based on a five-pillar vision themed 'Strategy 2020 and Beyond', which was unveiled a year ago. The five pillars are Profession, Empowerment, Engagement, Our Presence and Digital Strategy. The new council will focus on these five strategies by implementing various events, activities, projects and initiatives.

The CSSL was established in 1976 in Sri Lanka by a group of dedicated industry professionals for the purpose of promoting Information and Communication Technology (ICT) and professionalism among those engaged in the field, and to maintain the highest professional standards among ICT professionals.A non-profit body, the CSSL has played this role for over 40 years. The CSSL is best known in Sri Lanka for hosting the National IT Conference (NITC) which provides a platform for national and international researchers to publicise their research outcomes. NITC 2019 was a huge success with increased participation among both the public and private sectors, where special sessions were conducted for key Government officials on e-governance.

The CSSL also organises the National Schools' Software Competition (NSSC) as well as the popular IT MasterMind Television Quiz Show which is nationally televised on ITN. These activities have collectively led to a surge in popularity for the CSSL and also created renewed energy in driving large projects for building awareness and capacity. The CSSL also provides networking opportunities as well as workshops and seminars that are staged on a regular basis. One of its major achievements in the recent past is the obtaining of Provisional Signatory status of the Seoul Accord, which will assist in shaping the dimensions of ICT higher education in Sri Lanka.

The new initiatives for 2020 will be launched shortly and interested professionals and students are requested to visit the CSSL website at www.cssl.lk to learn about the organisation's activities and also apply for membership.