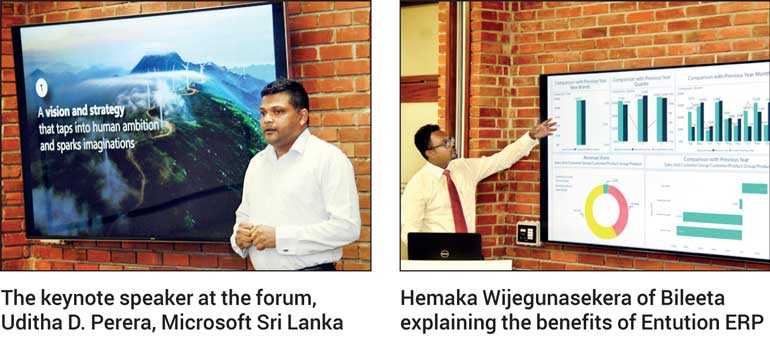 Digital transformation is the force that many businesses are harnessing to become leaner, be more disruptive and grow faster. One of the essential tools underpinning digital transformation is cloud ERP that allows organisations to integrate information from different sources for a smart, real-time view of their operations.

Set against this backdrop of a constantly-changing business environment, where companies have to adapt or be left behind, Bileeta Ltd. has given organisations the capability of furthering digital transformation through 'Entution' a cloud based state of art and fully fledged ERP solution.

Bileeta recently conducted a customer forum in collaboration with Microsoft Sri Lanka to give their potential clients a further insight into its benefits and usage.

The keynote speaker at the forum, Microsoft Sri Lanka Technology Evangelist Uditha D. Perera stated, "Organisations today are becoming digital enterprises, adopting digital tools and processes to harness, analyse and glean insights from their data, so they can operate more efficiently, respond to customer needs more rapidly and get their products to market faster."

He added, "Organisations whose fortunes are closely tied to the performance of their supply chain often start with digitising their operational processes with the business drivers being productivity, efficiency and the need to integrate operations with the intent of increasing visibility and decision-making speed to collaborate across silos. Since ERP software is a key enabler of this exercise, it too must reinvent itself in response to this digital transformation and the way to do it is by adopting a cloudified ERP solution that will help accelerate the pace of transformation."

He continued, "Cloud can take ERP software to the next level by allowing managers and C-Level executives to view business operations cohesively and instantaneously. It simplifies the flow between departments without increasing upfront investments and costs. Data collection and exchanging information once considered a time-consuming task has become a no brainer with the evolution of cloud ERP, that unifies business data and transactions into one system and enhances business productivity, letting organisations focus on core functionalities and reduce overall IT and investment costs.

"This results in accelerated growth, better decision making, greater interoperability, employee efficiency, a collaborative work environment and offers organisations the scale and speed required for its growth. This is why business leaders need to turn to cloud-based ERP solutions in order to transform faster and better prepare for constant change in a digitally driven economy."

Adding to these comments, Bileeta Senior Business Solutions Manager Hemaka Wijegunasekera explained, with 'Entution', organisations can enjoy the ability to singularly focus on business outcomes and customer satisfaction and not firefight and battle inefficient processes. It lets you pay an affordable fixed monthly fee, avoiding additional infrastructural costs such as hardware and data servers and brings down the cost incurred in maintenance and support of applications."

Entution ERP is also agile enough to give businesses the ability to scale rapidly and add functionality with ease, free from costly update fees or time-consuming integration efforts.

"As Entuition is accessed via the internet, it is intrinsically more mobile-friendly and provides a flexibility that's critical in today's business landscape, where so much work is done on smart devices from remote locations. Our solution can easily integrate with other mobile APIs, such as those for reporting and analytics, can store large amounts of data and provide access to data gathered by IoT technology. It can tell a company not only what the data says about where it's been, but also about where it's going," said Hemaka.

"Organisations will also have the ability to set up dashboards to measure performance and track KPIs, so that they can focus on their goals and share these easily with their team. This will help to explore and discover actionable insights and allow to take data-driven decisions that optimise business outcomes."

Such data will also help improve customer experiences by allowing organisations to quickly analyse customer data and react to customer issues in real time cited Hemaka. He also affirmed that as the data is not stored locally, but in the cloud it also avoids attacks on the company's server.

Hemaka said in conclusion that the solution is based on the Concept of 'Journeys', which is a discovery of a passionately invented thought process inherent to 'Entution ERP', which enables it to cater to various industry landscapes, from small to medium and large organisations with the ability to scale up as the business grow.