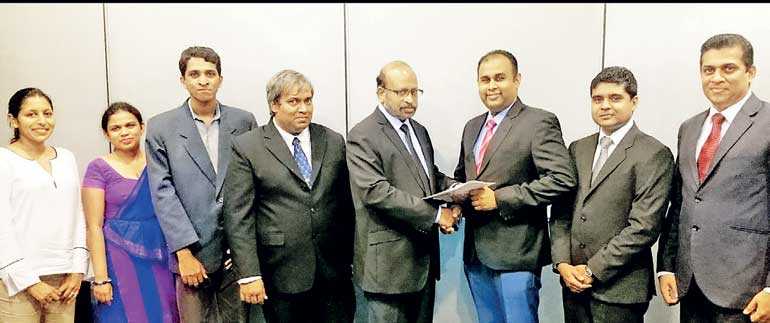 Avonet Technologies Director/COO Thilina Kumarapathirana exchanging the agreement with University of Moratuwa Dean, Faculty of Business Prof. Niranjan D. Gunawardane. Also seen (from left): Dr. Tiloka De Silva, Sulani Perera, Supun Gothama, Dr. Indra Mahakalanda, Head of Decision Sciences Department, Sachith Fernandopulle, Director/CTO and Shanta R. Yapa, Head of Corporate Communications of Avonet Technologies
In their quest of making world-class software, Avonet Technologies ties up with the University of Moratuwa, the premier engineering university in the country. This partnership will enable Avonet to access knowledge in the domain of decision sciences and the university will have the opportunity to work in real life commercial projects giving the much-needed practical exposure to students.

Speaking to our newspaper Avonet Director/Chief Operating Officer Thilina Kumarapathirana said that the new partnership will enable their Affiniti brand to add more value to their end users. Business firms often talk about the use of big data and analytics. However, we see a huge gap between what firms can do and what they actually do in this space. Simply, we tied up with the best source of knowledge for mutual benefits and as a result Affiniti will have more and more pro-active features in time to come, he added.

Our commitment to client firms includes continuous improvement of the products in response to technology and market trends. Making your products future proof especially in the technology domain certainly demands new knowledge acquisition better than others. As big data, machine learning, analytics and artificial intelligence change the way organisations operate we ensure our pursuit of excellence in the CRM and loan recovery domains through this collaboration, said Avonet Technologies Director/Chief Technology Officer Sachith Fernandopulle. As a passionate team of innovative technocrats the Avonet team is very excited with the new partnership, he added. "Universities being the dominant players in creating and disseminating knowledge, we are much impressed with the opportunity to collaborate with a relatively young and quite promising technology firm. Certainly, this type of linkages is essential to support local firms to be competitive and also to align the universities and industry domains for sustainability and prosperity. Within a short span of time, we have been able to take several such initiatives," said Prof. Niranjan D. Gunawardane, Dean of the Faculty of Business. Dr. Indra Mahakalanda, Head of the Decision Sciences department of the University of Moratuwa said that it is timely that innovative technology firms work closely with universities to explore and exploit the emerging technologies to offer more value to the society. Avonet Technologies the pioneer in developing delinquency management solutions locally enabling banks and enterprises to effectively manage loans and receivables has a conscious technology road map to take their products to the next level. The Affiniti brand of Avonet is making inroads to local and international corporate firms offering an array of unmatched benefits. Avonet has its corporate sales office in Australia and runs the innovation and development centre in Sri Lanka. Several leading banks and financial institutions in the country are now using Affiniti Recovery in their efforts of improving recoveries through automation. This has enabled banks to use resources effectively in more demanding areas of human interactions such as relationship management.