'Pannaraya' Award winners with Minister of Megapolis and Western Development Champika Ranawaka
---
Recognised for his contribution to promoting local talent and enabling digital disruption locally


Arimac Digital's CEO and founder Chamira Prasad Jayasinghe was awarded and honoured with the title 'Iron Personality' at the first-ever 'Pannaraya' award ceremony for his work on enabling digital disruption within Sri Lanka and creating a conducive space for young Sri Lankan talent to thrive. The first-ever Pannaraya award ceremony recognised the achievements of 10 business and non-business personalities for their contribution to the nation's socioeconomic growth.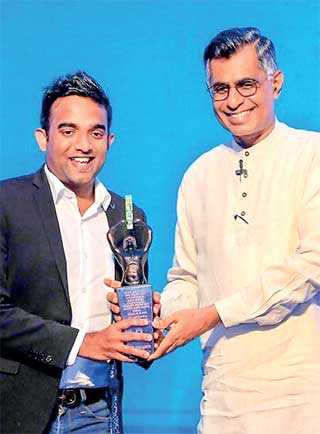 Arimac Digital CEO Chamira Prasad Jayasinghe receiving the award at the 'Pannaraya' award ceremony
The judging panel of Pannaraya mainly considered Arimac Digital's Diyazen – humanoid robot concept and home grown third person shooter game, 'NERO' in awarding the honour to its CEO. The awards ceremony was held at the Water's Edge recently.

Arimac Digital is a leading end-to-end digital solutions provider in Mobile and Enterprise Solutions, Artificial Intelligence and Machine Learning, Immersive Technologies, and Game Design and Development in Sri Lanka. The Company offers ample opportunities for local talent to fuse creativity and talent to develop digital solutions locally. Based in Colombo, Arimac Digital is backed by a compassionate team of technophiles, creative wizards and researchers. The company specialises in enterprise, web and mobile development; immersive technologies, gaming and digital entertainment, cognitive sciences and robotics; and digitisation and consumer ergonomics. The company's CEO envisions retaining local talent in the country to battle brain drain. As such, Airmac Digital focusses on promoting budding local talent to showcase their talent in game development through creations like IMI game platforms which enables external game developers to create and upload games for a global audience. Initiated by the Ministry of Megapolis and Western Development with guidance from Minister of Megapolis and Western Development Champika Ranawaka, 'Pannaraya' honours and recognises organisations and individuals that contribute to the country's economic growth and social upliftment.