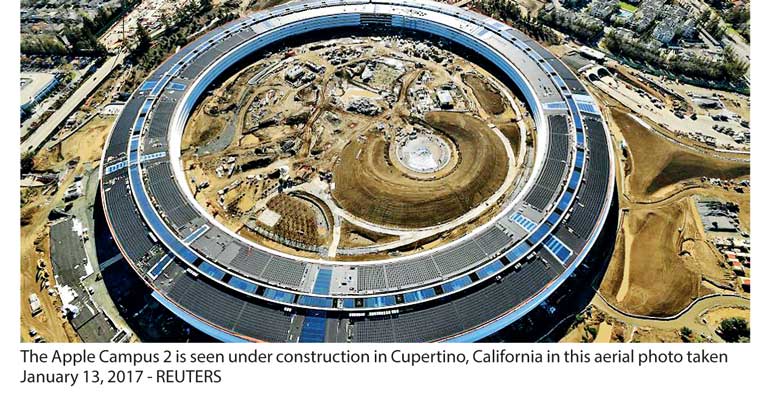 Reuters: Apple Inc (will open a new campus as part of a five-year, $30 billion US investment plan and will make about $38 billion in one-time tax payments on its overseas cash, one of the largest corporate spending plans announced since the passage of a tax cut signed by US President Donald Trump.

The company has been under increasing pressure to make US investments since the 2016 presidential campaign, when Trump targeted the iPhone maker for making products in Asian factories. While Apple has announced no plans to change that practice and experts say it would be economically impractical to make iPhones in the United States, the company has begun to emphasise its US economic impact, from developers who sell software on its App Store to the tens of billions of dollars per year it spends with US suppliers. Between the spending plan, hiring 20,000 people, tax payments and business with US-based suppliers, Apple on Wednesday estimated it would spend $350 billion in the United States over the next five years.

It did not, however, say how much of the plan was new or how much of its $252.3 billion in cash abroad – the largest of any US corporation - it would bring home. In addition to the $38 billion in taxes it must pay, Apple has run up $97 billion in US-issued debt to pay for previous share buybacks and dividends. Some investors said the US investments would give the company room to make more stock buybacks or pay dividends without criticism, and Apple shares rose 1.7 percent for the day. Walter Piecyk, managing director for TMT Research at BTIG Research, said he could not yet tell whether the US expansion was an increase from a previous plan or meant investment abroad was being refocused in the United States.

Reuters Breakingviews estimated that Apple could have increased US headcount by 24,000 in the last five years.

Trump described the move by Apple as a victory for his efforts.

"I promised that my policies would allow companies like Apple to bring massive amounts of money back to the United States. Great to see Apple follow through as a result of TAX CUTS," Trump wrote on Twitter.

Asked in an interview with ABC News whether the job creation announcements were directly related to the Republican tax plan, Apple Chief Executive Officer Tim Cook gave a measured response.

"Let me be clear: There are large parts of this that are a result of the tax reform, and there's large parts of this we would have done in any situation," Cook said in the interview.

About a third of Apple's new spending will be on data centres to house its iCloud, App Store and Apple Music services, a sign of the rising importance of subscription services to a company known for its computers and gadgets. Apple has data centres in seven states.

The announced US spending would be a significant part of Apple's overall capital expenditures. Globally, the company spent $14.9 billion in 2017 and expects to spend $16 billion in 2018, figures that include both US-based investments in data centres and other projects and Asian investments in tooling for its contract manufacturers. If Apple's overall capital expenditures continue to expand at the same rate expected this year, the $30 billion investment in the United States could represent about a third of its capital expenditures over the next five years.