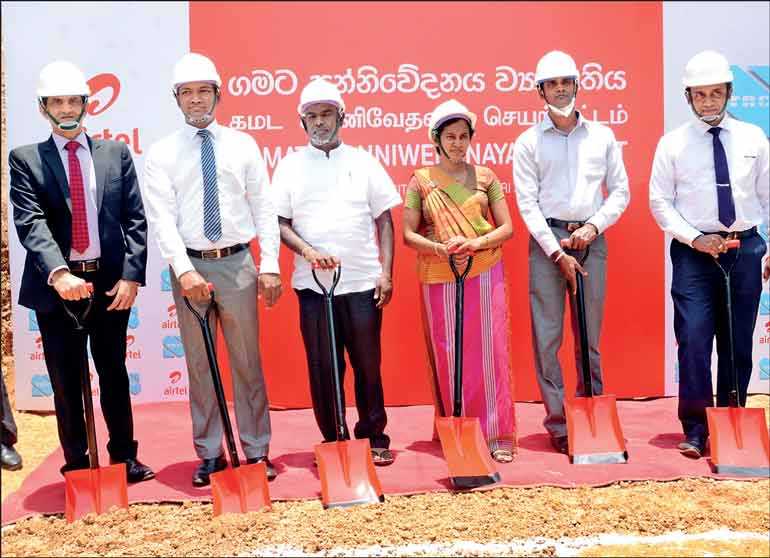 From left: Airtel Lanka CEO and Managing Director Ashish Chandra, TRCSL Director General Oshada Senanayake, Imbulpe Pradeshiya Sabha Chairman Srilal Senarath, Gamata Sanniwedanaya Additional District Secretary Udaya Kumari, Airtel Lanka Head of Site Acquisition Sameera Mendis and Municipal Commissioner Aruna Premarathne
---
Working in partnership with the Telecommunications Regulatory Commission of Sri Lanka (TRCSL), Airtel Lanka added its support to 'Gamata Sanniwedanaya' to eliminate coverage 'dark spots' island-wide.

As the first phase of the initiative, Gamata Sanniwedanaya aims to facilitate construction of 37 new signal towers in the Ratnapura district. The digitisation of rural communities will help keep anyone connected and productive in their daily lives, supporting seamless distance-learning and flexible working requirements.

Speaking at the ground-breaking ceremony, TRCSL Director General Oshada Senanayake said: "The bold steps that we are taking today under the Gamata Sanniwedanaya initiative will lay the foundation for Sri Lanka's accelerated transformation into a vibrant, digitalised regional hub for tech, ICT and related services. This starts with bridging the digital divide for rural communities. By the end of 2020, this initiative will have covered 10 districts, and by 2022 we will have achieved 100% coverage island-wide. This will create immense growth potential across Sri Lanka for all her citizens."

Part of a progressive national effort led by TRCSL to ensure seamless mobile and data connectivity island-wide, the Gamata Sanniwedanaya initiative aims to bridge the digital gap by providing equal access to mobile connectivity for all Sri Lankans.

"Airtel's mission is centred on enriching lives for all Sri Lankans. With digitalisation expanding to cover every facet of daily life at an exponential rate, it is essential and empowering to ensure that reliable mobile connectivity is available to all our citizens. We are therefore proud to partner with TRCSL on this vital and visionary initiative," Airtel CEO/MD Ashish Chandra said.

With Airtel's purpose-built 4G network also coming into play in the near future, users will be able to experience drastically improved indoor coverage, with stronger signal penetration leaving almost no room for dead zones that can cause network interruptions. Faster speeds and a host of other digital services are also part of the package, proving ideal for online classes and anyone working from home.