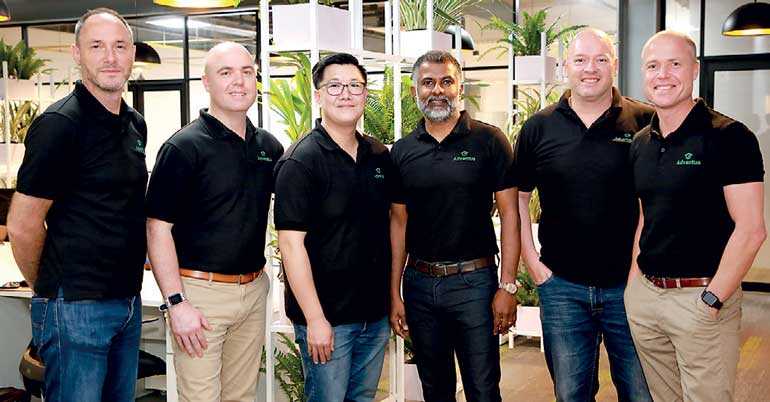 From left: Adventus Vice President Chris Price, Chief Operating Officer Lincoln Trainor, Group Finance Manager David Ter, President Victor Rajeevan, Chief Technical Officer Richard Uren and Chief Executive Officer Ryan Trainor


Adventus, a global leader in international student placement services, has increased its investment in Sri Lanka with the unveiling of a new state-of-the-art headquarters in Colombo, Sri Lanka. The Chief Guest at the opening ceremony was Australian High Commissioner to Sri Lanka and the Maldives David Holly, who officially inaugurated the new headquarters located at level 1, 142 Bauddhaloka Mawatha, Colombo-4.

With a mission to help students discover a better life through the power of education, Adventus has rapidly grown globally, with a workforce now surpassing 100 people in eight offices around the world including the new headquarters in Sri Lanka and offices in countries including Australia, Bangladesh, India, Nepal, Singapore, UK and Vietnam.

The new Sri Lankan headquarters will allow for a 120-strong workforce to expand into their new premise supporting global operations. At the launch, Adventus also announced the much-anticipated release of a revolutionary new technology called Adventus Connect, an intelligent Platform as a Service (PaaS).

The platform connects universities and recruitment partners by streamlining the selection, application and enrolment process through automation, supported by the highest quality assurance and in-country processing procedures.

David Holly stated: "I congratulate Adventus for the establishment of the headquarters in Colombo. The investment is a significant milestone in the relationship between Australia and Sri Lanka, creating new jobs and building upon an already longstanding relationship between Australian Universities and the Sri Lankan community."

Sharing his thoughts about the significance of the launch, Adventus President Victor Rajeevan stated: "The new headquarters and our global expansion will enable the company to offer our world-class services and intelligent platform to a wider market and further establish the company as a global leader in international student placement services and technology."

Global CEO Ryan Trainor added: "It is an exciting time for our company as we strive to champion genuine change in the industry. We are proud to now partner more than 500 high quality, top ranking and flexible universities and education providers from around the world to support our growing network of global recruitment partners. This headquarters in Sri Lanka will support our global operations and support our mission to help students create a better life through the power of education."

Adventus plans to continue its expansion over the next 12 months with new offices in more than 15 new countries through Asia, Middle East and Africa as they expand their recruitment network and more than double their university partnerships.