TIQRI continues its innovative streak to digitally embrace the challenges of a changing world
---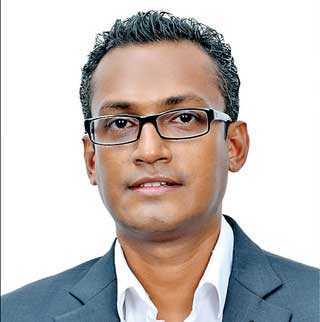 Chief Executive Officer Shamira Dias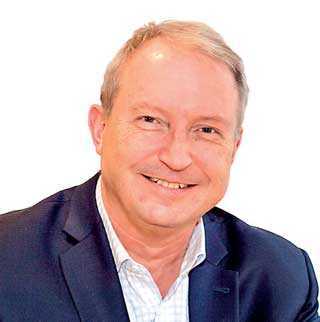 Chairman Finn Worm Petersen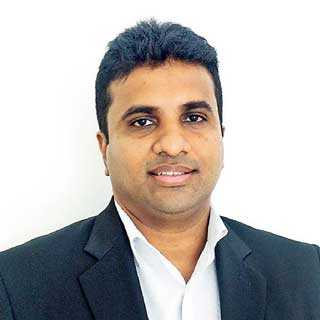 Head of Delivery Eranda Angunawala
---
Software solutions have renovated from being business accelerators to business survival kits in today's VUCA (Volatility, Uncertainty, Complexity and Ambiguity) world. For change agents such as TIQRI Ltd.,
this change has been a way of life since inception.

Since its humble beginnings in 2008 as Exilesoft with only eight employees working from its Founder/Chairman Finn Worm-Petersen's residence up to its rebranding as TIQRI in 2017 when it partnered with two Norwegian software development firms, the company has come a long way to be around 150-person operation it is today.

Headquartered in Norway with its main business office at 201, Sir James Peries Mawatha, Colombo 2, Sri Lanka, TIQRI operates branches in Singapore, Vietnam and Australia.

TIQRI's ultimate mission, in the words of CEO Shamira Dias, "We always strive to play an integral role in our customer's digital transformation journey providing technical leadership, driving innovation and helping them to achieve their goals. This also includes providing a platform for our software engineers to grow and nurture their careers while becoming leaders in the IT industry."

Focussed on an offshore software development model, TIQRI provides a range of technology solutions services covering cloud based development and maintenance, mobile and wearables, artificial intelligence and internet of things, enterprise software development, business intelligence and and analytics, user experience design, and quality assurance and automation to a wide array of countries in the Scandinavian region as well as UK, USA, Middle East and South East Asia.

In recent years, TIQRI has undergone a vast acceleration of its innovations, reach and business model efficiencies. Under the leadership of Shamira, the company has experienced seamless transition into the new normal with a flexible working model.

TIQRI's team of dedicated and committed employees are considered as the company's success formula. Driven by perfection and inspired by a passion to innovate, the TIQRI team is ever ready to face and conquer any challenge. The company's successful transition into remote working was fuelled by its employee's flexibility, adaptability and willingness to keep changing the status quo so as to keep on learning and growing.

"The difference between a leader and a follower comes down to two factors – decision making and implementing those decisions," says Shamira, highlighting that TIQRI believes in being able to "disrupt yourself in today's volatile economic environment that's changing faster and more furiously than ever."

This flexible working model has enabled TIQRI to continue delivering its solutions on time to customers despite the pandemic and lockdown restrictions – a just testimony toTIQRI's philosophy on being more than a solutions provider and being a partner to its clients.

TIQRI's Head of Delivery Eranda Angunawala spoke of how the team was able to increase value for clients throughout 2020: "We received a gamut of gratitude from clients, including several Fortune 500 companies, across multiple regions including the US, Europe and the Middle East covering various sectors such as FinTech, Banking and Finance among others. They've commended us for offering superior quality products with continued delivery of value par excellence and continuous improvement on productivity and value addition – a true reflection of our team's dedication towards continuous development on delivery during the last year."

On the edge of innovation and technological breakthroughs, TIQRI positions itself as a learning organisation and a people's champion. Firmly set on delivering its role in building careers and grooming professionals, the organisation operates its own training centre: the TIQRI Academy – the nucleus of its learning and development initiatives. Here, trainings are conducted via workshops, tech talks and assessment centres complementing the technical requirements of projects and individual needs with emerging technologies and market trends. Further, all employees are empowered to request specific trainings, including behavioural grooming and technical training programmes.

TIQRI's End-to-End-Engineering Group initiative is another such practice where the organisation appoints heads for each technical practice, who in turn grooms and inducts new employees to the team.

TIQRI has been continuously lauded for its innovative streak, focussing mainly on Augmented Reality, AI and Robotics – its digital twin product Exee won two awards at the E-Swabhimani Gala Awards 2019 as well as the NBQSA Bronze award. This drive towards innovation is fuelled and powered by the TIQRI Innovation Lab, which is TIQRI's homegrown innovation incubator equipped with state-of-the-art technology and tools to enable employees' creative freedom.

Dev Day is another endeavour by TIQRI, now in its eighth consecutive year, where the organisation plays hosting partner to the annual conference dedicated to software developers where local and foreign speakers share the latest trends and inspire engaging conversations. With top notch speakers gracing its past panels, in the likes of NASA rocket scientist Dr. Anita Sengupta and Alexander Kjerulf – Founder and Chief Happiness Officer of Woohoo inc., Dev Day has been gathering momentum along the years.

Last year, the physical conference was replicated on a digital platform as Dev Week, where keynote speaker Partner Program Manager of Microsoft Developer Division Scott Hanselman and a host of presenters took to the virtual stage and inspired over 1,000 software developers who participated from across South Asia.

TIQRI positions itself as a learning and development centric, innovation-driven company, focussing mainly on three differentiators: the Innovation Lab which breeds novelty and technological advancements, its fully-fledged engineering team that contributes beyond job roles, and the company's philosophy of taking care of its employees through performance incentives and rewards, on top of career advancements. TIQRI is built upon a foundation of employee development which is prioritised over everything else – a feat that has withstood the gloom of the pandemic and in fact resulted in the company distributing a performance bonus to the staff last month for a job well done in this challenging year.

"The future is closer than you think," says Shamira, "you can pay attention now or watch the digital transformation happen right in front of your eyes." He adds that COVID-19 has pushed successful companies to fast-track their digital transformation strategy while many others are in great distress of not doing it correctly, and urges the business world to rethink normalcy and break stereotypes through technology – a feat that TIQRI promotes and humbly prides itself in.