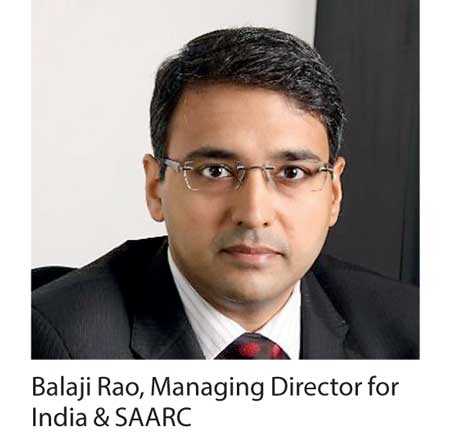 Veritas Technologies, together with its partner in Sri Lanka, Avian Technologies, recently hosted a partner enablement event for Veritas' partners and customers. Balaji Rao, Managing Director for India and SAARC, shares his thoughts on data management and the current challenges:
Q: Veritas is looking at expanding its footprint in Sri Lanka. Could you give us a background to the company and its plans for Sri Lanka?
A: Veritas is a leader in multi-cloud data management. In less than two years, Veritas has successfully transformed itself from a traditional back-up and recovery company to a multi-cloud data management player and brought our 360 data management strategy to life. Building on our 360 data management approach, Veritas offers a comprehensive array of data management solutions for the multi-cloud – ranging from data visibility and protection, to storage optimisation, business continuity and compliance readiness.

We recently conducted a partner enablement event in Sri Lanka to introduce the new products as well as to discuss the key challenges faced by the industry. With Sri Lanka being part of the India and SAARC region, we are focused on strengthening our footprint in the local market, in tandem with our partners. In our interactions with partners, the challenges faced by customers in the multi-cloud era, especially with the exponential growth of data, is high on our priority list.
Q: What are the challenges that customers face?
A: The cost for infrastructure – in terms of data storage and management – is a common challenge we see in both India and Sri Lanka, as well as across the region. It is critical to note that the growth in data has far outweighed the reduction in storage cost. For example, storage for 10 petabytes would cost $ 1.6 million today, but in 10 years it would be around $ 90,000. However, data itself is increasing rapidly. According to the latest Veritas Data Genomics Index 2017, the annual data growth rate has skyrocketed to 48.7% and we expect the trend to continue. Therefore, the soaring volumes of data and the ability to accommodate it is a huge CAPEX and investment challenge.

A second challenge is compliance. Complying with the local, regional and international regulations mean that data needs to be stored in certain formats and be secured in prescribed locations. This is where data storage and back-up are crucial. In addition, there are stipulated time frames that organisations need to adhere to – certain data will have to be kept for five years, 10 years and sometimes even longer. We will not know when this data will be needed. Hence, data management should be fluid, with data being well stored in a way that it is quickly retrievable.

Tied to that is resiliency of data. Data should be backed up in a remote site so that it can be recovered during a crisis. At Veritas, we provide our customers with the ability to have their data stored in a resilient format where it can be migrated from the primary site to a Disaster Recovery (DR) site. If the primary site faces a crisis, you still have your data up and running in the DR site. Data back-up and resiliency are two critical points in data management.

The agility in moving data between clouds is another challenge faced by organisations with the expansion of the multi-cloud system. Ideally, a company would like to have the flexibility to sign up with multiple cloud vendors, depending on their varied requirements. Therefore, the ability to migrate data across different cloud environments, to avoid situations such as cloud lock-in is very important.

Data hoarding is yet another common issue for many companies. According to the Veritas Databerg Report, 52% of all information currently stored and processed by organisations around the world is considered 'dark' data, whose value is unknown. A majority of companies are guilty of data hoarding and strict processes need to be put in place to avoid this.

Veritas has a product called 'Info Map' which gives a complete x-ray view into the client's data storage. It enables us to provide insights as to what data is relevant. It gives a holistic picture by picking up data from about 300 data sources. This is very useful to companies as the data points can impact pivotal business decisions. As the corporate world is moving towards automation, it is equally vital that only relevant data is fed into the automated systems. Today, 86% of the Fortune 500 companies work with Veritas to gain data insights – we are at the frontline of such innovation and evolution.
Q: What does Veritas offer in Sri Lanka, and how does it differ from the rest of the region?
A: Different markets have different maturity levels, with diverse adoption of products. Importantly, all the products that are available in Veritas globally are also made available in the Sri Lanka market. We also have the advantage of introducing tried and tested processes, as well as exporting expertise from India for implementation in Sri Lanka.

For example, the telecommunication industry is huge in India. There is a growing trend of moving towards commodity hardware in terms of data storage and management. The challenge with commodity hardware is the up-time, which is much lesser than expensive machines. With the Veritas 'Info Scale' solution, we are able to give the same up-time as any other machines, thus bringing equal resiliency and availability to a commodity hardware platform. Veritas also has software-defined storage solutions that allow one to buy commodity storage and build out a large storage farm out of our software. This is a good option for retaining less used data. Through integration with the cloud providers, the data can be pushed into a public cloud environment. These are the innovations that would be useful to the customers in Sri Lanka moving forward.

Similarly, we provide our customers with a holistic 360 data management tool through our comprehensive array of data management solutions. The knowledge, metadata management, techniques and skills that we have built over the years are steeped in both depth and breadth, for a single service provider.
Q: How do you bring across the message for all these products and services to your customers?
A: This can be twofold. The customers can use our consulting services where we analyse their environment and provide reports and recommendations, which in turn can help them with their business decisions and policies. From a product perspective, we can connect our products into their IT environment, which will provide a live dashboard which consolidates all the data across various sources.
Q: What are the direct plans for Sri Lanka together with Avian Technologies?
A: Our partnership with Avian Technologies is comparatively recent. The positive response we garnered from the partner enablement event – which had over 100 customers and 60 partners, gives us much encouragement and reason to continue with our market outreach in Sri Lanka. We believe that Avian Technologies' strong business relationships in the local market, as well as their good reputation for pre and post-sale services built over years, will put us in a good stead for a progressive partnership.

Sri Lanka is an important market for us in this region. We look forward to share the experiences and skills we have in India, especially with the banks and telecommunication service providers, with our Sri Lanka partners, to help them add value when they deliver our products to their customers.
Q: In your view, what are the future prospects within the SAARC region?
A: The disruptions of cloud, both on-premises and off-premises, and the associated challenges are already upon us. This impacts emerging technologies, as well as the existing technologies. The business and geo-political climate continuously puts pressure on IT spends and impact decisions. A major challenge which is common across the region is that IT budgets are not increasing in double digits. So running your IT management within a constrained budget becomes a daily challenge. On the other hand, the demands for data and its applications are increasingly high. At Veritas, we are well positioned to help customers in the SAARC region including Sri Lanka and India, to accelerate their digital transformation and solve pressing IT and business challenges in the multi-cloud world. Through the partner networks, we will bring significant value to customers in due course.