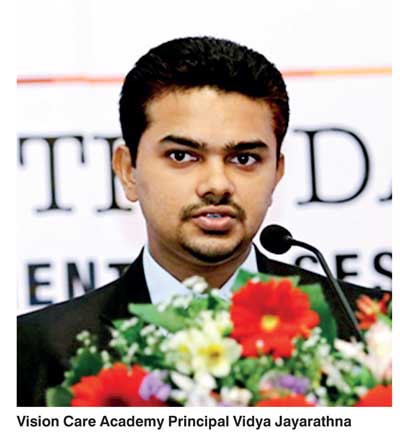 Following are excerpts of an interview with Vision Care Academy Principal Vidya Jayarathna, a well-qualified optometrist with a BSc optometry (2012):
Q: What does the Vision Care Academy stand for?

A: The academy is a part of Vision Care Optical Services and primarily began in 2008 with a motive of supplying qualified, up-to-date optometrists due to the lack of trained staff in the country, firstly focusing on in-staff training. Today anyone who aspires to become an ophthalmic assistant or optometrist can come to us, learn our diversified certificate and diploma courses, upgrade their knowledge and put it to practice by working. Though these courses are offered at zero cost, it is a mandatory bond that the individual has to undergo work training with us as part of the program requirements. It's definitely worthwhile to receive this education at no cost as it's an investment for a lifetime.

Q: Why should someone choose this field for higher education?

A: Optometry is all about the eyes – vision – and we all need to keep our eyes safe and clear. Presently optometry education is not popular in Sri Lanka. This is also due to the limited opportunities as not many institutions have this field of study. There are a few private institutions out there that offer similar courses but we believe Vision Care is well positioned to deliver effective programs due to its continuous proven success in the profession and being a pioneer in the industry with access to the latest, modern technology and eye care equipment in Sri Lanka. Our approach gives a truly world-class training that is similar to that of an international one.

Q: Where does the optometry profession stand today?

A: Unlike other countries, Sri Lanka only has certificate and diploma levels in optometry hence it's limiting in studying further with a bachelors, masters or PhD. But in the future, Vision Care hopes to have fully-fledged degree programs as well.

Q: What are the career paths and categories in this profession?

A: In the optometry profession, an ophthalmologist is the highest level followed by an optometrist (bachelors' level), optician and ophthalmic assistance (certificate level), nurses and staffs. Choosing the right eye doctor is very important as you will trust him or her to safeguard your precious sense of sight and help you maintain a lifetime of good vision. There are two types of eye care professionals- optometrists and ophthalmologists, both are qualified to examine eyes, prescribe eyeglasses and contact lenses.

Q: What are the programs and courses the academy offer?

A: Vision Care Academy currently offers Diploma in Optometry, Certificate for Ophthalmic Assistants, Certificate in Dispensing Optics, and Certificate in Audiometry.

Q: When are the intakes and what's the primary qualification needed to enter?

A: The Certificate for Ophthalmic Assistants requires one to have passed all three subjects at the Advance Level examination in science and a C Pass for English Language at the Ordinary Level Examination, and be between the age group of 19 to 30 years. This is a one year program (three semesters).

For the Diploma course, the applicant must have successfully completed a Certificate Level Course for Ophthalmic Assistants with three years of working experience in the field. Conducted in the English medium, the Diploma level is a one year program (three semesters) with a maximum of 24 students enrolled.

And candidates who have achieved a minimum requirement pass for all subjects that they have attempted such as Biology, Mathematics, Chemistry, Physics, and Commerce at the Advanced Level Examination and the Ordinary Level are eligible for the one year Certificate in Audiometry program where only five students are enrolled per intake.

Q: What is Vision Care Optometry Day?

A: Optometry Day is a day celebrated worldwide for optometry however our optometry day is on a different date where the first Optometry Day and Annual Scientific Sessions took place in May 2009. This year we are having the seventh annual session. Everyone from Vision Care branches and head office attend the event as it provides a platform for them to resolve their problems and questions with regard to optometry as they practice it. Through questionnaires, studies and research they are able to find solutions. Optometry Day provides them an opportunity to present their cases to all others participating and interact, and also have the chance to go abroad and further present and enhance their knowledge in this field.

Q: How would you see Vision Care Academy in 2020?

A: Currently the Vision Care Academy conducts continuous education programs for all our staffs such as leadership, team building, workshops, and also the annual Optometry Day. Learning never ends in the optometry field as new and fresh innovations and solutions are found and introduced every day. Being the pioneer in the industry, we hope that by 2020 we will be able to deliver more felicitated optometry programs either with local or foreign affiliations and provide that opportunity for Sri Lankans to pursue higher in their study interest. We are also always looking at upgrading our technology, equipment and research methods and approach.
Vision Care Academy
Vision Care Academy started in April, 2008 as a great idea of Dasantha R. Fonseka, Chairman and CEO of Vision Care Optical Services Ltd. to train in house staff.

It passed the first milestone by registering the Certificate Course for Ophthalmic Assistants at Tertiary and Vocational Education Commission (TVEC) Sri Lanka in May, 2011. In March 2012, the academy moved in to a new separate building with more modern facilities with an objective of expansion of its service. Today the academy conducts 3 full-time courses on eye care. All certificate courses are under the supervision of TVEC.

As an academy, the academy's key priority is to drive-up standards and transform the competencies of the students towards a quality service to be given to the patients who seek vision improvement. The academy will accomplish its goal through its educational program high expectations and rigorous academic performance.
Vision Care
Known for its years of trusted excellence and continuous introductions and adoption of the latest technology in the field, Vision Care is the market leader in eye care and hearing solutions in the country today with fully qualified optometrists and professionals who conduct thorough, comprehensive eye examinations using state-of-the-art equipment to establish one's eye sight and the health of the eye. In addition to its modern facility and showroom located at Colombo 7, Vision Care boasts over 34 branches island-wide giving a wider access, ease and convenience.